White Cook Chef Knife Review
We are supported by readers who purchase the products we review. If you use one of our links to make a purchase, we earn a commission at no additional cost to you. See Disclosures.
I am always keeping an eye out for new companies as they come onto the chef knife scene. When this knife was first released, it had several positive reviews with a few negative mixed in. I decided to give the White Cook Chef Knife a try and give my own product review. How does this knife and company compare to others on the market? Continue reading below to find out! Short on time? No problem. Click here to jump on down to the review summary.
The White Cook Chef Knife was quite the surprise when I first took it out of the box. It has an elegant look and feel. I was quite impressed as I began using it for the first time.
The chef knife passed the first cutting tests without any issue; however, the more I used it the more I realized that the edge dulled fairly quickly. Although honing did bring the edge back slightly, it just never regained the same quality cuts I was experiencing before. This knife will require more frequent stone sharpening that better quality knives.
Another red flag was the W White Cook company. They are a new company on Amazon, and originally had a lot of positive reviews. In recent months I noticed that all of their reviews have been removed. Not sure the reason, but it seems very deceptive.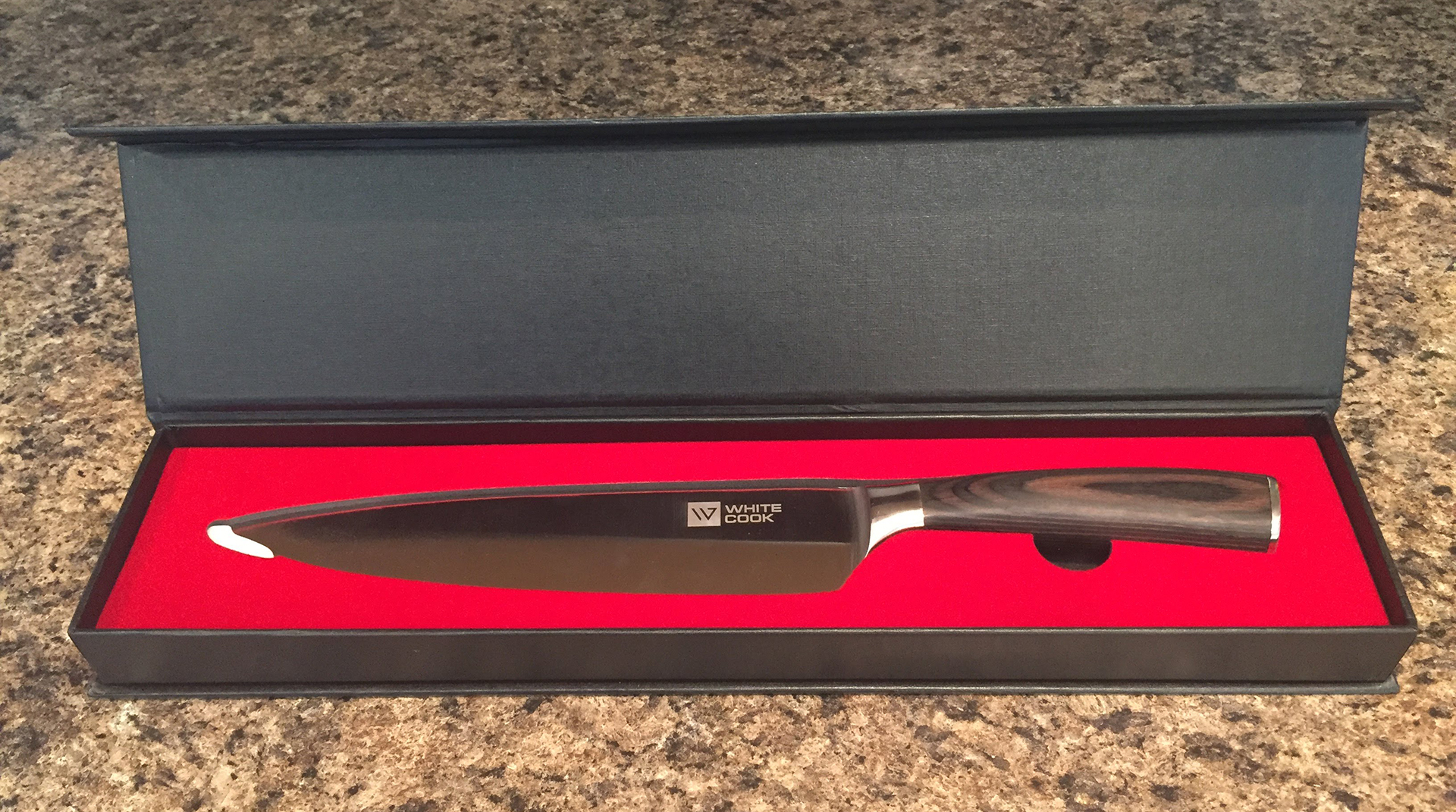 Materials & Contruction

70%

70%

Usability

80%

80%

Grip

85%

85%

Weight / Balance

90%

90%

Cleaning & Maintenance

75%

75%
Chef knife has a nice aesthetic appeal
8″ blade length gives more control over cutting
Chef knife is 100% guaranteed
Blade made from low quality steel
Company removed all of their Amazon review
Grammatical and spelling issues within product description
Materials and Construction
The White Cook Chef Knife is made using 7Cr17 Stainless Steel. This steel is manufactured in China, and does not carry extreme quality or value. In discussions around cutlery forums this particular steel would not be considered a major loss if something happened to it. It has a Rockwell Hardness of 54-56. This does allow it to hold up better to abuse and keep its edge a little longer.The wooden handle of the knife is made from PAKKAwood. This material is engineered wood/plastic composite material commonly used in knife handles.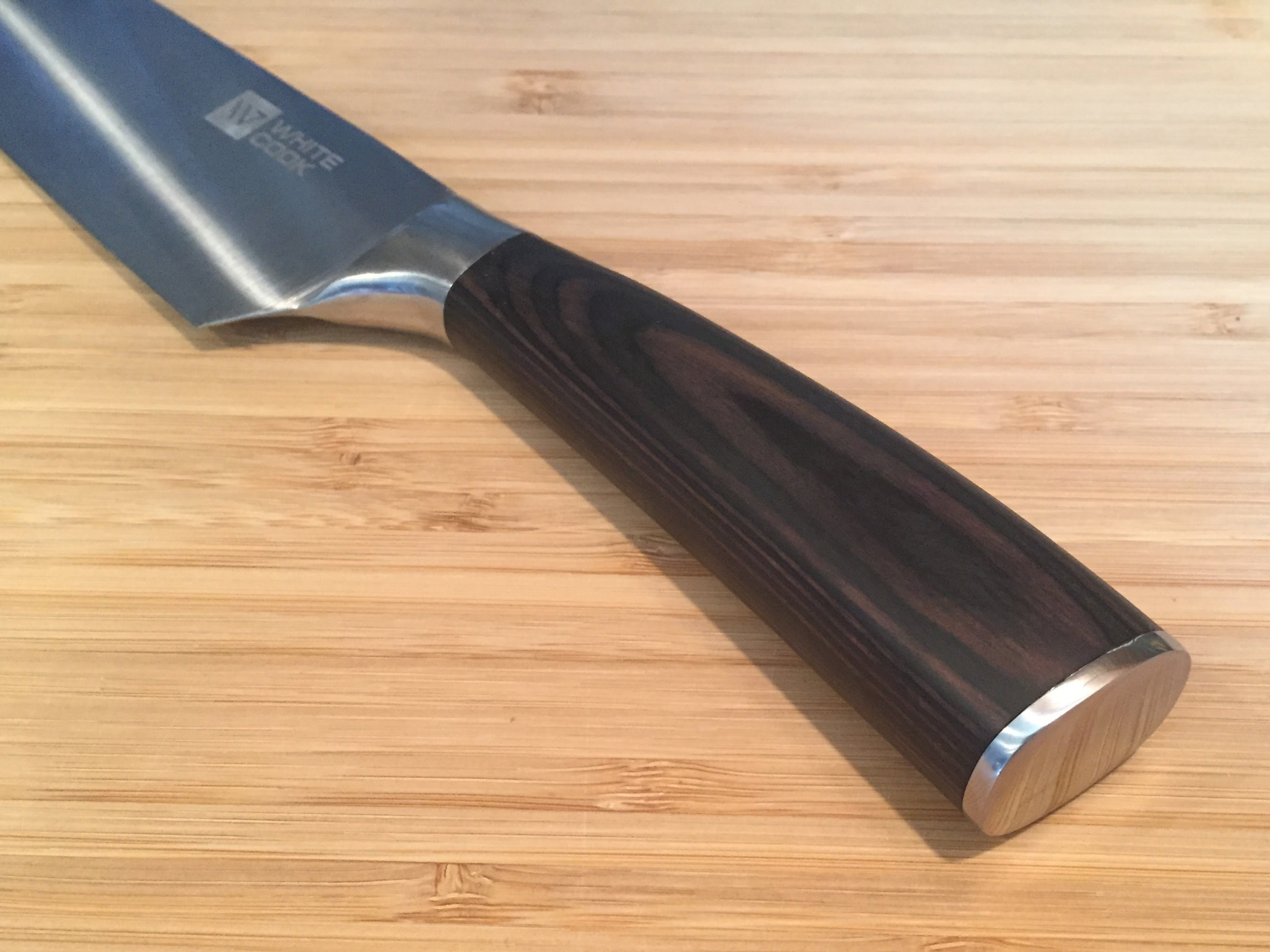 The White Cook Chef Knife is a beautiful knife as first look right out of the box. The blade has a clean polish with the White Cook logo stamped in the side. The handle also grabs you attention with its dark wood. The butt has a silver cap to give the impression that is is a full tang, but this chef knife is a half tang. Although it is a half tang, the blade and handle are equally balanced at 100 grams each. The handle does provide a good grip, and I can see using it for an extended amount of time without a lot of fatigue. The length and weight of the knife does make it easer to use as compared to some of the longer chef knifes.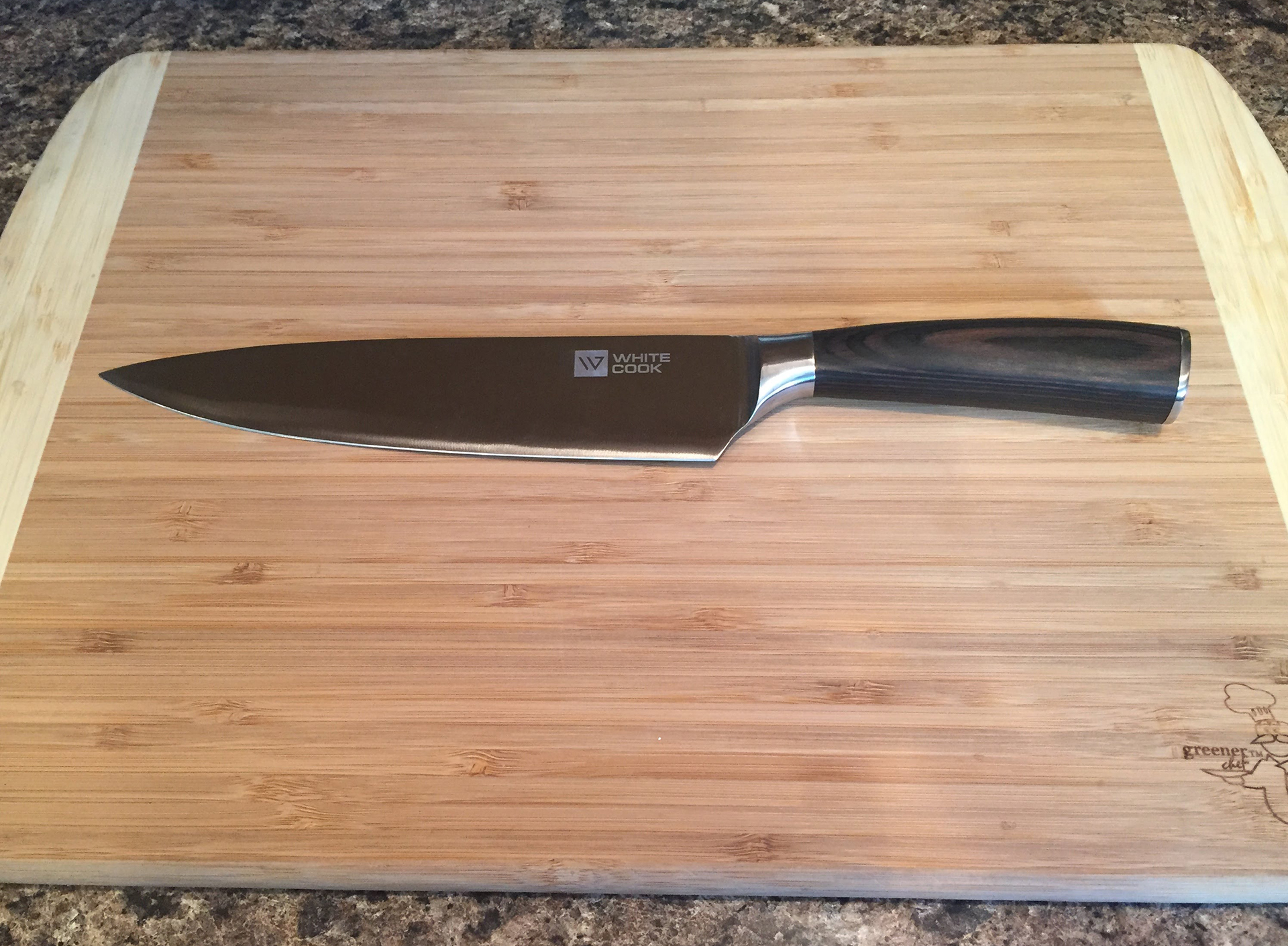 Length
Blade 8″ (advertised) 7 3/4″ (actual)
Full length: 12 7/8″ (actual)
Made In China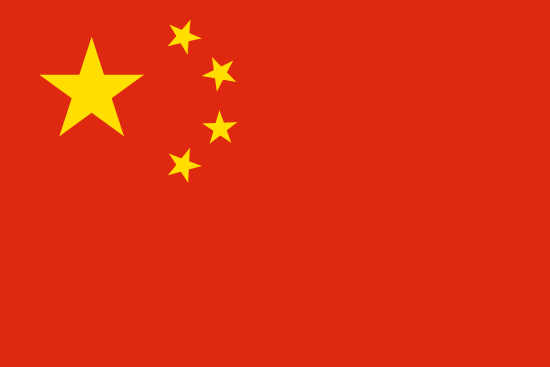 I put the White Cook Knife through a series of usage test in my own kitchen over a couple weeks. I wanted to put the knife through home kitchen use instead of an isolated test environment. I used this knife to cut a variety of breads, meats, vegetables, and fruits.
I found this chef knife to cut very well at first; however, over time the blade began to wear down noticeably. After the extensive use, any slick or tough skin of fruits and vegetables were a challenge for this blade. I found the same for breads as well. It did not have any trouble with softer meats, fruits, and vegetables.
Bread: Out of the box this knife sliced through bread like button, but over time it could not cut through regular french bread without crushing it to apply the necessary force.
Carrots: As with most hard vegetables, it takes more of a chopping motion than a slicing motion. The hard blade chopped through the carrots without issue. 
Chicken: After its first bit of use, I had to apply more force than normal to cut through the chicken.
Onions: The first several uses sliced through the onion without any problem. As the blade dulled, I had a lot of trouble cutting through the slick skin of the onion.
Potatoes: This knife cut through potatoes like butter as long as it was recently honed. The potatoes did stick to the side of the blade.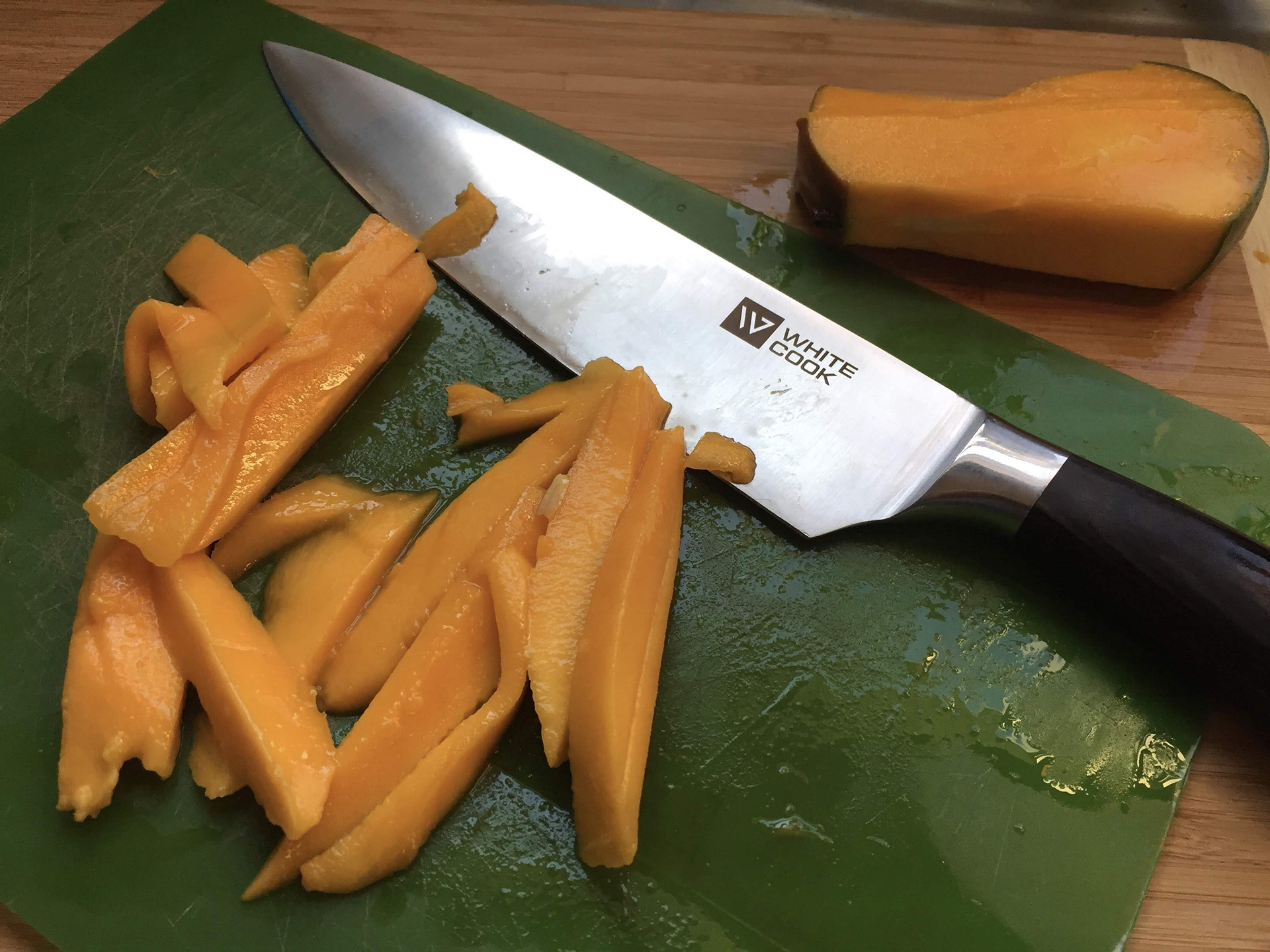 Although it is not mentioned in the product specs, i would not suggest that you was this chef knife in the dishwasher. I would recommend that you wash this knife by hand to ensure its sharpness and longevity (see: Kitchen Knife Care). As with any knife, you should rinse off the blade after each use. Then use warm or hot water with soap to throughly clean it. Rinse it off and then towel dry it to prevent discoloration. As seen in the usability test, the edge does not hold very well. You will need to regularly hone it and sharpen it on a whetstone. The bolster and handle design is a single piece which prevents food from getting into any cracks. Keep it washed and sharpened, and this knife will last you for several years.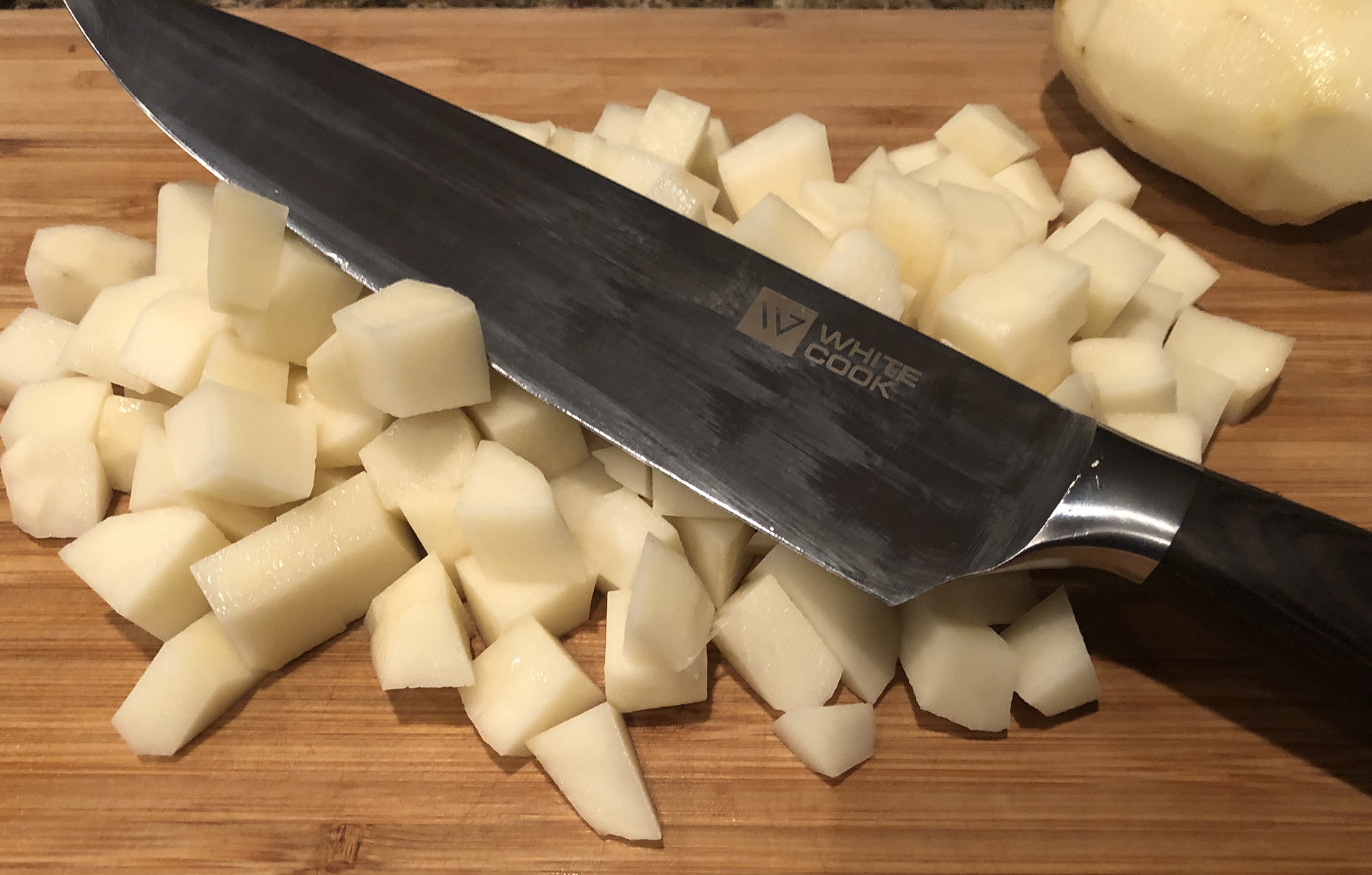 Company
White Cook company is a very small business with just a hand full of kitchen knife products. Their products include two chef knives and a utility knife. They have been in business on Amazon since 2017. With White Cook being as small and new as it is, I was unable to find any lawsuits class action claims, etc. against them.
Reviews for the company's products on Amazon raised a few concerns. Fakespot.com gives the company a F rating. From what I can tell they used to have a lot of reviews, and then they got removed. I'm not sure if this was intentional or if it was the result of creating a new product listing. As you can see from the table below that they have only gotten one review in the last 30 day. Their price drop also raised a red flag as they were at one point over $50 and now they are selling them for $9.
30 days
90 days
12 months
Lifetime
Positive

–

100

%

100

%

98

%
Neutral

–

0

%

0

%

0

%
Negative

–

0

%

0

%

2

%
Count

0

1

22

121
 Company Amazon review profile from December 2018
Return Policy
As an item that is exclusively sold on Amazon, you can use the Amazon return policy and return any item within 30 days. If you exceed this allotted time, then you will want to contact White Cook Company directly to work through your issue.
Warranty
The White Cook company gives you 30 days to return this knife for a full refund. And if there are any other issues to contact them so they can refund or replace the product. I haven't seen any comments on their warranty being used.
Value
At the time of this review, the White Cook Chef Knife was $9 although it has been priced at over $50. Taking all of the review point into account what more would you expect out of a $9 chef knife. Being completely honest, it's a great deal if you don't mind putting a little extra effort into keeping it sharp. 
Who Should Buy the White Cook Chef Knife?
I would recommend the White Cook Chef Knife to home chefs who want:
An inexpensive chef knife
The price is the best feature of this knife. 
An Aesthetically pleasing tool
The handle and blade are nice to look. It looks like it would be worth a lot more than what you paid. 
White Cook Chef Knife
Materials / Construction -

70%

Kitchen Use -

80%

Sharpness -

67%

Grip -

85%

Weight / Balance -

90%

Cleaning / Maintenance -

75%

Value -

85%

Returnability -

75%

Warranty -

100%
Summary
The White Chook Chef Knife does pique some curiosity with its price, but the quality of the knife just does not hold up to standards that I have from my own kitchen. Based on my testing results and the red flags that I have with the company I would avoid this particular knife and look at one of the others I have reviewed.