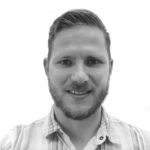 By Timothy Hales
Updated: January 17, 2019
We are supported by readers who purchase the products we review. If you use one of our links to make a purchase, we earn a commission at no additional cost to you. See Disclosures.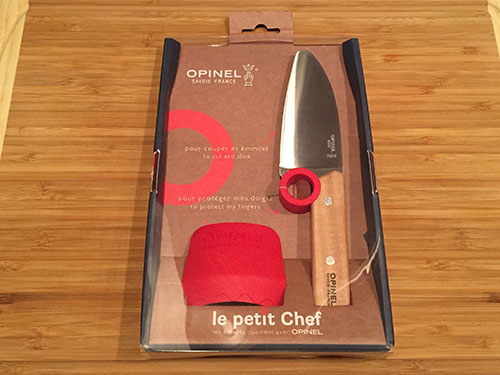 Best Kids Chef Knife Winner
After testing several kid chef knives, it was easy to declare Opinel le petit Chef Knife as the winner. I was very impressed with its quality, safety features, and usability. I go into all the details of why I chose this knife below.
Having kids in the kitchen is one of my favorite things. Taking the opportunity to pass on acquired skills, family recipes, and a love for cooking is very exciting. Starting them out by helping stir batters, then to basic cutting techniques and knife terminology, and finally, to full meal prep provide a full range of learning opportunities.
One of the most used tools in the kitchen is the knife. Knives can be extremely intimidating to children, so what is the best knife to get them started? I put four of the top kids chef knives on the market up against each other to find out which one is the best.
 Each comparison within this review will focus on four key areas for each kids chef knife:
Overview -This will focus on the general features of the knife and the main selling points.
Quality – This considers what each knife is made from, how it is made, and how well it holds up with daily use.
Safety – This area looks at the safety that each knife provides. We examine the knife's features to determine if it is keeping them safe.
Usability – Features, quality, and safety mean nothing if the knife is not usable. I put each knife in the hands of a child to see if they can actually use it.
Value – Here I look at the overall value of the knife. Put all the features and my additional considerations up against the price and ask… Are you getting what you pay for?
Kids Kitchen Knife Ratings
This rating table provides a summary of all reviews below. Continue reading to learn more about why each knife received its rating.

Opinel le Petit Chef Knife
Kai Little Chef Knife
StarPack Nylon Knife Set
Curious Chef 3-Piece Nylon Knife Set
Quality
Excellent


★ ★ ★ ★ ★

Good


★ ★ ★ ★

Good

★ ★★ ★

Good

★ ★ ★ ★

Safety
Excellent


★ ★ ★ ★ ★

Good


★ ★ ★ ★

Excellent


★ ★ ★ ★ ★

Excellent


★ ★ ★ ★ ★

Usability
Excellent


★ ★ ★ ★ ★

Excellent


★ ★ ★ ★ ★

Good


★ ★ ★ ★

Good


★ ★ ★ ★

Value
Excellent


★ ★ ★ ★ ★

Good


★ ★ ★ ★

Excellent


★ ★ ★ ★ ★

Excellent


★ ★ ★ ★ ★
Kid's Chef Knife Feature Overview
Here is a quick overview of the features from each of the 4 children's chef knife. Scroll down further to see a more in-depth review of each knife.

| | Opinel le Petit Chef Knife | Kai Little Chef Knife | StarPack Nylon Knife Set | Curious Chef 3-Piece Nylon Knife Set |
| --- | --- | --- | --- | --- |
| | | | | |
| Pieces | One knife with cutting guard | One knife | Set includes a small, medium and large plastic kitchen knife | Set includes 1 small, 1 medium, and 1 large nylon knife |
| Price | $$ | $ | $ | $ |
| Blade | Stainless Steel | Stainless Steel | Nylon | Nylon |
| Edge | Straight (sharp) | Straight (sharp) | Serrated | Serrated |
| Tip | Rounded | Rounded | Blunt | Blunt |
| Handle | Wood | Polypropylene (heat-resistant temperature 110 degrees) | Soft rubber non-slip handle grip | Soft touch button grips |
| Size | Blade length 4" / Total length 8.3/16 | 125 mm blade | N/A | N/A |
| BPA Free | N/A | N/A | Yes | Yes |
| Dishwasher Safe | Yes, but hand washing is preferred | No | Yes | Yes |
| Warranty | Opinel guarantees their products under normal use and will exchange if there are any manufacturer defects. | N/A | If you're not completely satisfied with your StarPack knives, simply let them know and you'll be offered a FULL refund or replacement, no questions asked. | Defective products may be returned with proof of purchase. |
| Weight | 73g | N/A | N/A | N/A |
| Maintenance | Blade can be honed and sharpened as needed | Blade can be honed and sharpened as needed | None | None |
| Recommended Age | Not listed | Not listed | 4+ | 5+ |
| Made in | France | Japan | China | China |
| Purchase | Buy | Buy | Buy | Buy |