Cutting Board Care Guide to Keeping a Clean Cutting Board
We are supported by readers who purchase the products we review. If you use one of our links to make a purchase, we earn a commission at no additional cost to you. See Disclosures.
Cutting boards are one of the most used tools in the kitchen, so you want to make sure you have a clean cutting board readily available. They can be used to cut, chop, slice, and dice a myriad of foods. They take an enormous amount of abuse in the food preparation process. Not only can they be used behind the scenes, but also for presentation purposes for foods such as meats, cheeses, and bread.
For this, it's important that your cutting board is visually presentable. In order to make sure your cutting board is ready for any task, you must properly clean and maintain your cutting board. In this cutting board care guide, we look at how to clean and maintain wood, bamboo, and plastic cutting boards.
Wood
Cleaning a Wood Cutting Board
Cleaning a wood cutting board is surprisingly simple. In order to understand the process, it's important to understand the effects on surfaces of wooden boards. Heat and extended periods of water can cause the board to warp or even crack. Because of this, running a wood cutting board through a dishwashing cycle isn't the best idea. There are a few other simple ways in which you can be sure your wood cutting board stays clean after each use.
First, make sure to rinse the board right away. Although this won't guarantee your wood cutting board will be completely disinfected from bacteria, it will clear off most food from the surface. Following the rinse, take a soft rag with soapy water and circle both surfaces of the board. It's also important to disinfect the board from time to time with any of three solutions: vinegar and water, bleach and water, or hydrogen peroxide. Using lemon halves is also an alternative for those that prefer a more natural method of disinfecting. Finally, dry the wood cutting board by wiping with a dry cloth or standing up sideways to prevent water from sitting on the surface.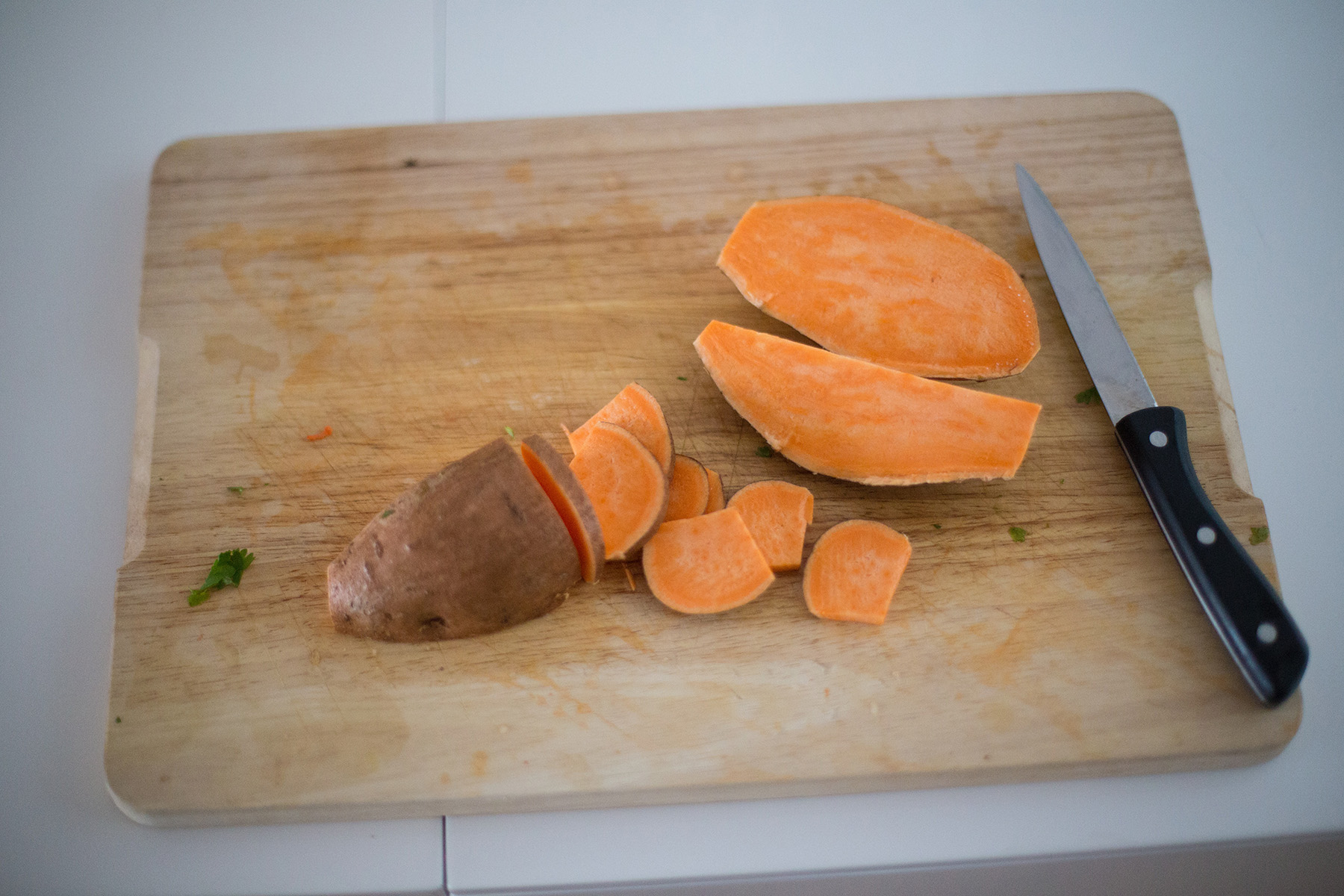 Maintaining a Wood Cutting Board
It is easy for bacteria to build upon the surface of a wood cutting board making cleaning and disinfecting an every use task. It is also necessary to maintain the board with oils. Oils will aid in filling the cracks and crevices to further prevent bacteria growth. The frequency of adding oil to the surface will depend on the amount of use in your kitchen. We recommend a monthly rub down or every few weeks to ensure an extensive life of your cutting board.
There are a few different types of oils to keep in mind when performing maintenance. Not all oils are considered "food-safe" and shouldn't be applied to a cutting board. Here are a few recommended products specifically made for protecting your board.
There are also natural solutions such as mineral oils or beeswax as well as plant and nut-based oils. Plant and nut-based have been known to emit odors over time, therefore it's best to stick to mineral oils, beeswax, and truly dedicated wood oils.
Bamboo
Cleaning a Bamboo Cutting Board
Bamboo cutting boards have quickly grown in popularity for their appealing looks, dense construction, and eco-friendly properties. They typically have a harder surface than those of wooden cutting boards and are constructed with organic material. Although considered a grass, bamboo cutting boards will require a similar cleaning and maintenance routine to that of wood.
Like wooden boards, it's best to keep your bamboo cutting board out of the dishwasher. This also includes soaking the board in water for any period of time. As an alternative, run warm water over the surface of the board followed by a hand wash with soapy water. Finish the cleaning with a dry rag or place on the drying rack to ensure moisture doesn't allow for bacteria.
Disinfecting the board can also be done with any of the solutions mentioned above: vinegar and water, bleach and water, or hydrogen peroxide. It's important to note that these solutions could cause your bamboo cutting board to dry out. Make sure to oil the board regularly to avoid splintering and excessive cut marks.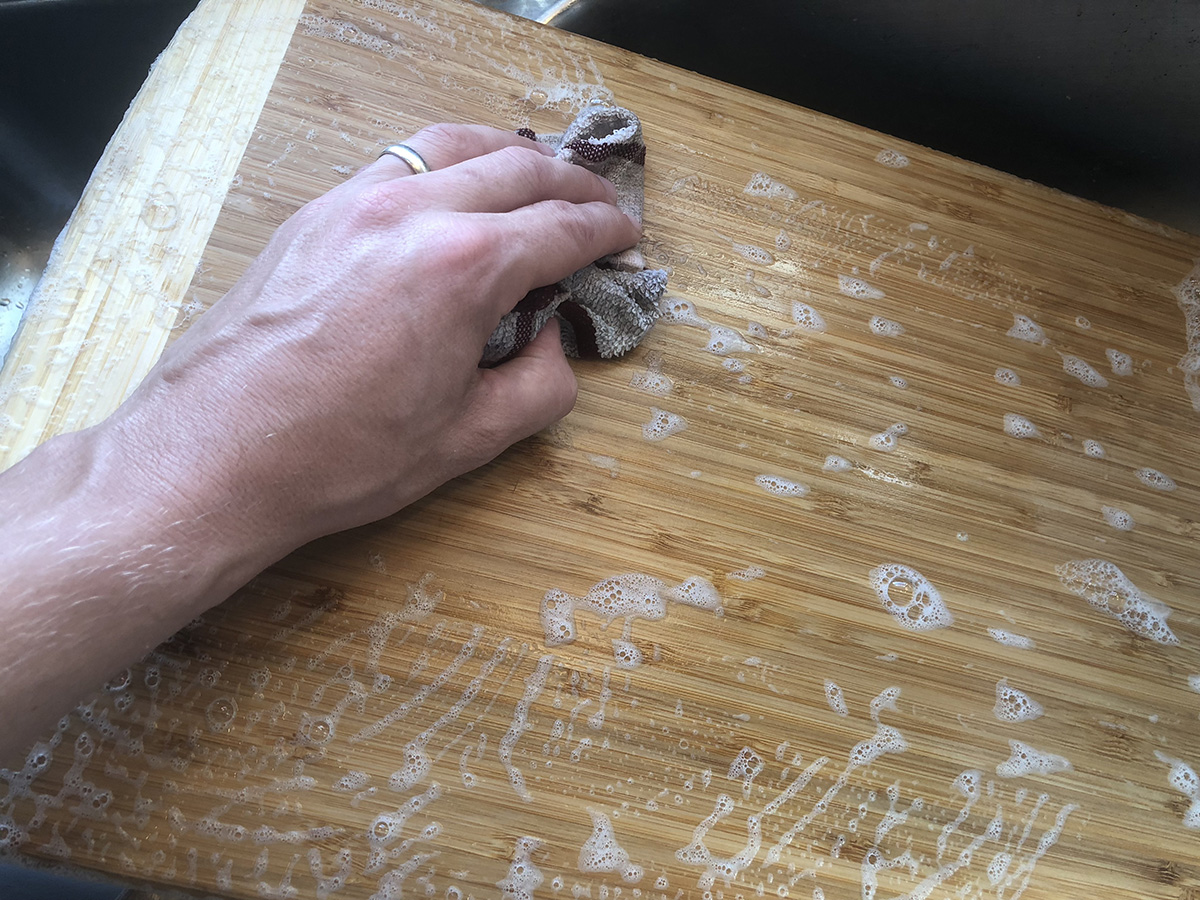 Maintaining a Bamboo Cutting Board
The only true way to maintain your bamboo cutting board appearance is through an appropriate seasoning and oiling process. This not only creates a natural shine but will develop a protective seal. Many bamboo boards will come in its raw state without any chemical sealants. You may notice tiny fibers or splinter when you first open it. These fibers are very common until you season the board.
The first step in preserving the life of your board is to season the board for 7 days straight by applying oil to both sides. Use a food-safe oil such as walnut, coconut, or almond oil. Be cautious of using olive oil as it can go rancid fairly quickly. The board is still functional during this time but will require a clean surface each time new oil is applied. Following the initial seasoning, oil your bamboo cutting board as needed depending on the frequency of use. We recommend once a month or every few weeks.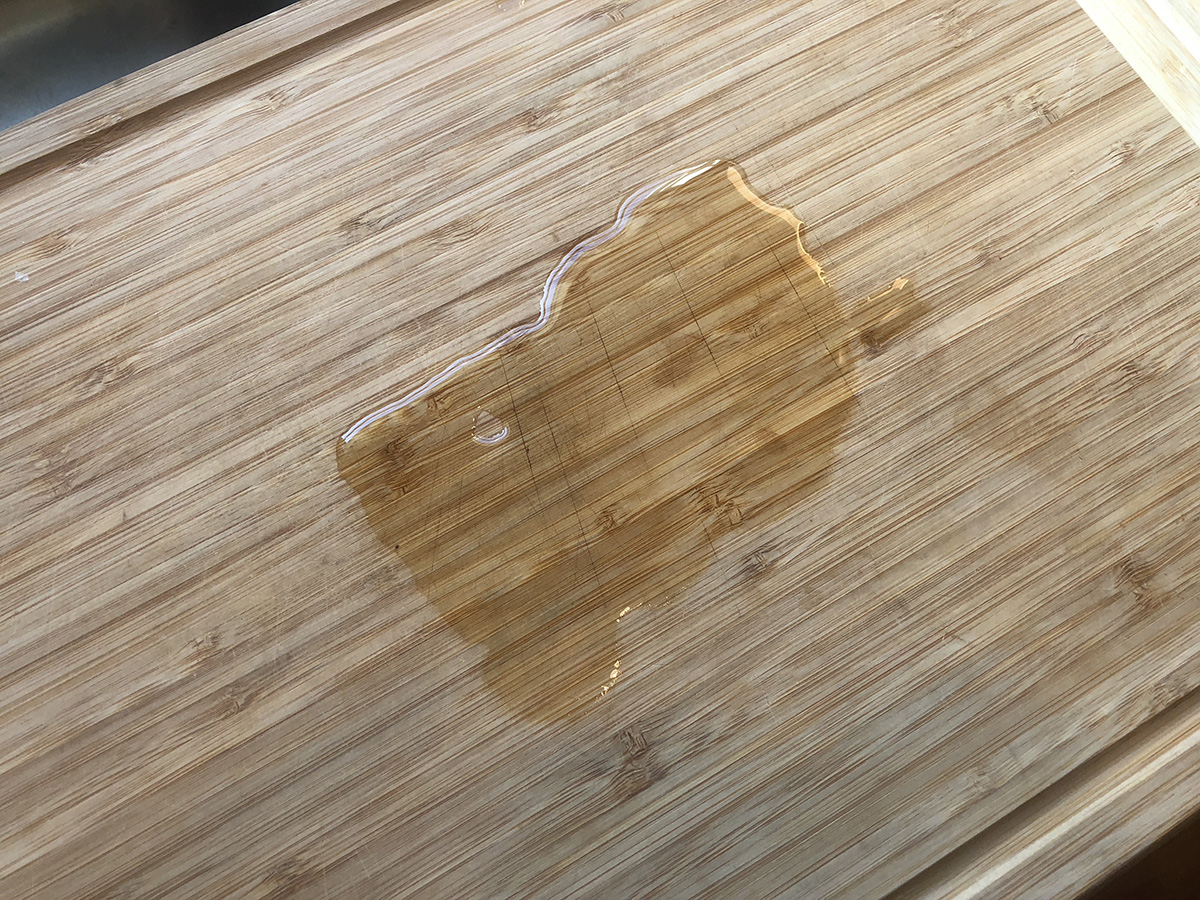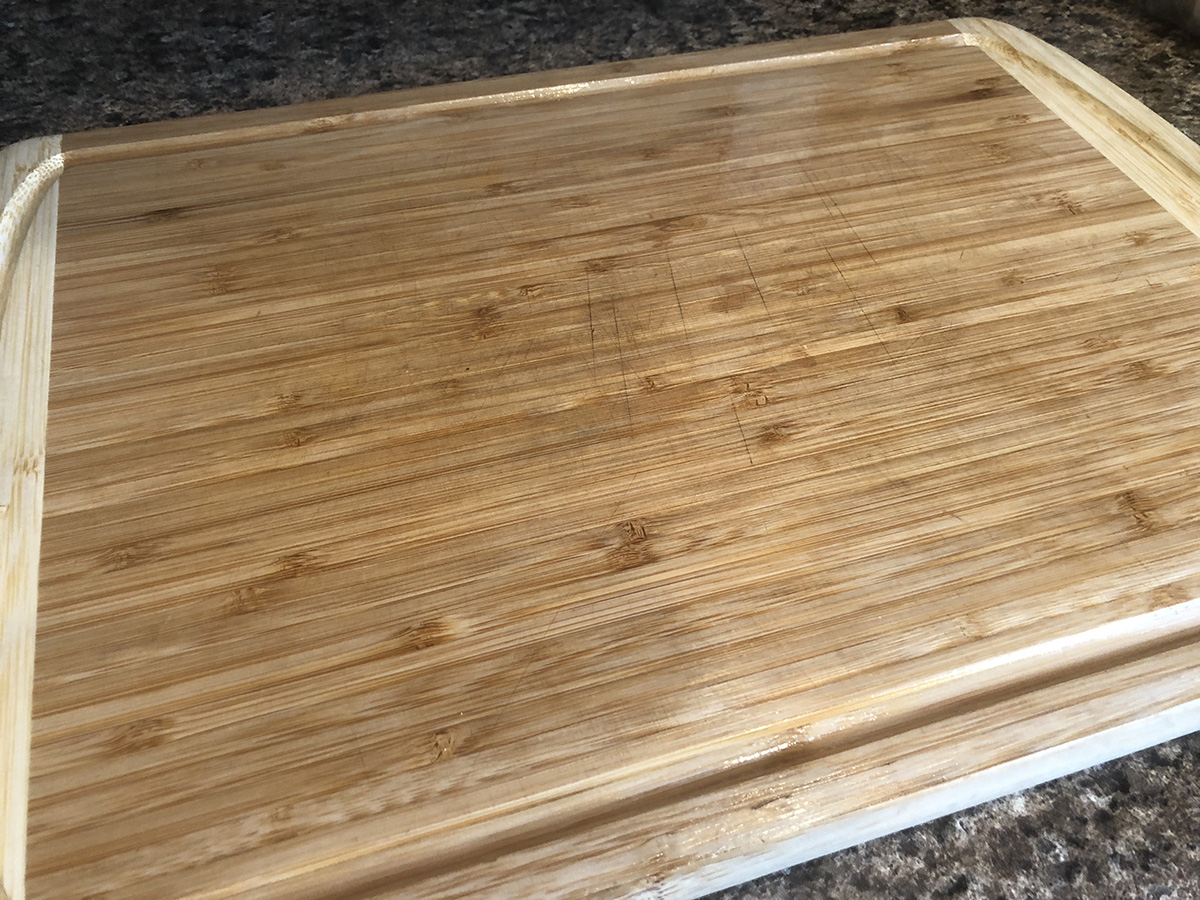 Plastic
Cleaning a Plastic Cutting Board
Plastic cutting boards remain necessary in most busy kitchens for their colorful looks or simplicity when it comes to cleaning. The main difference between plastic and most other alternatives is the ability to soak or run the board through a dishwashing cycle. This comes in handy when you're in a rush or just don't care to hand wash after each use.
The main advantage of a dishwashing cycle is its ability to sanitize the board at high temperatures. For those that choose to hand wash plastic cutting boards, it's important to disinfect the surface as well. This can be done with similar solutions such as vinegar and water, bleach and water, or hydrogen peroxide. Most importantly, be sure to finish the job by thoroughly drying the board with a rag or placing on an open drying rack.
For any difficult stains, try out a baking soda paste. Blend together baking soda, salt, and water and thoroughly scrub the area. Re-apply as necessary for older and deeper stains then finish with a rinse of warm water.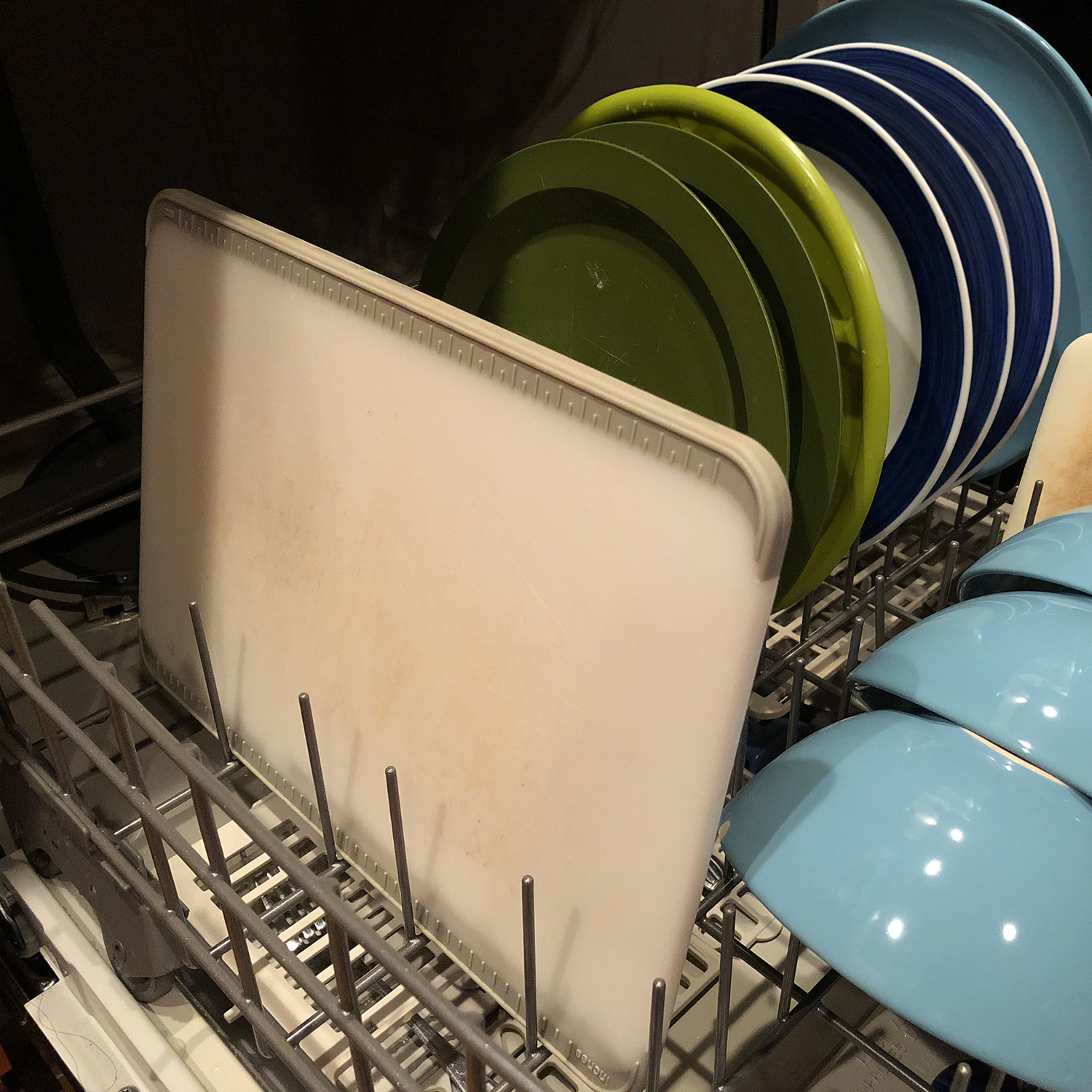 Maintaining a Plastic Cutting Board
Maintaining a plastic cutting board may be almost as simple as cleaning it. There is no seasoning process required or extra steps to take in order to preserve the life of the board. With that being said, plastic cutting boards will develop dark areas from heavier use and small cuts. Depending on the depth of the cuts and how dark the area is, the problem can be resolved with a simple buffing technique.
The appearance of plastic cutting boards can be freshened up by using sandpaper and steel wool. Begin by preparing the board for sanding using steel wool to remove larger burs. Follow this by using a 25 grit sandpaper and work your way up to about 80 grit. Once you've achieved your ideal smoothness wash and rinse any excess grindings.
Deodorizing a Cutting Board
Even with regular cleaning and maintenance routines cutting boards can develop nasty odors. It's not uncommon for the scents of onion, garlic, or any of the other smelly kitchen items to remain on a cutting board for some time after a cleaning. There's a simple fix to this that can be used to deodorize or as a preventative measure.
Lemons and salt are necessities to keep your cutting board nice and fresh. The acidic properties of lemon juice and the grittiness of the salt work together to both deodorize and grind out surface stains.
Start by cutting a lemon in half.
Squeeze the juice onto the center of the board.
Sprinkle some salt over the surface.
Grind the salt into the board by rubbing the lemon half in a circular motion.
Completely cover the board a few times.
Finish by rinsing off with warm water.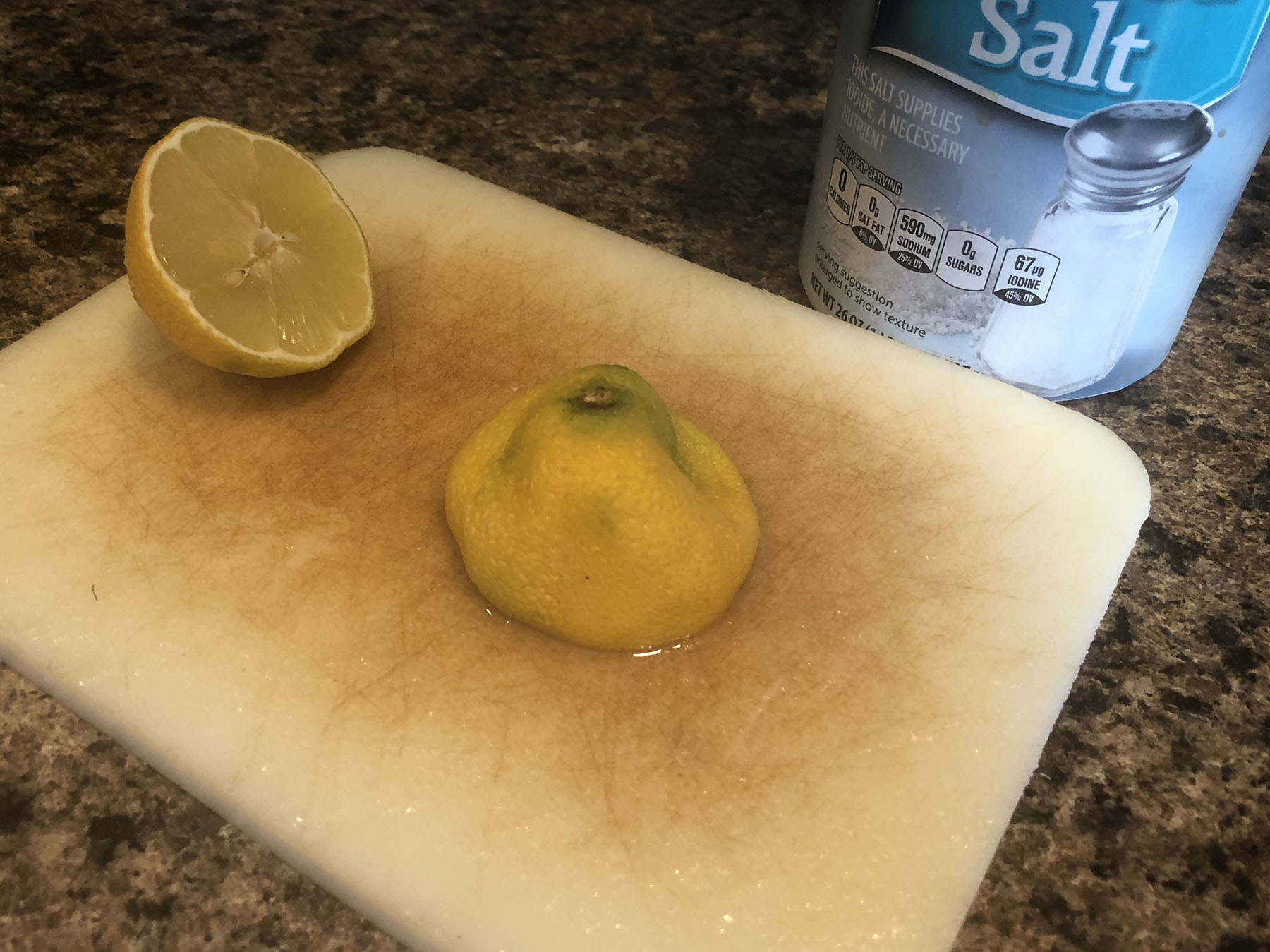 Recommended Cutting Boards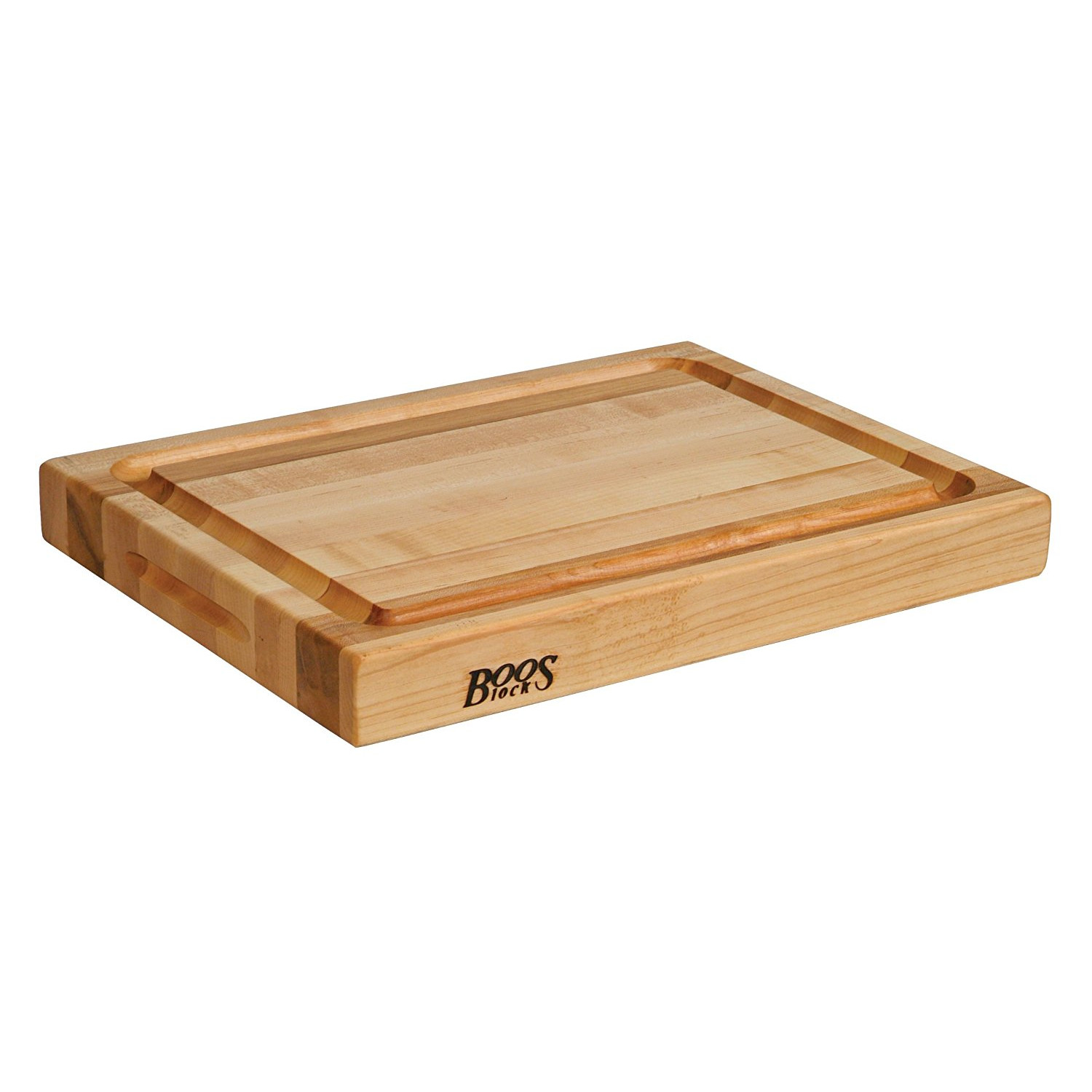 Crafted from Maple Wood
Large (20″ x 15″ x 2.5″)
Edge Grain construction
Integrated handles & deep juice groove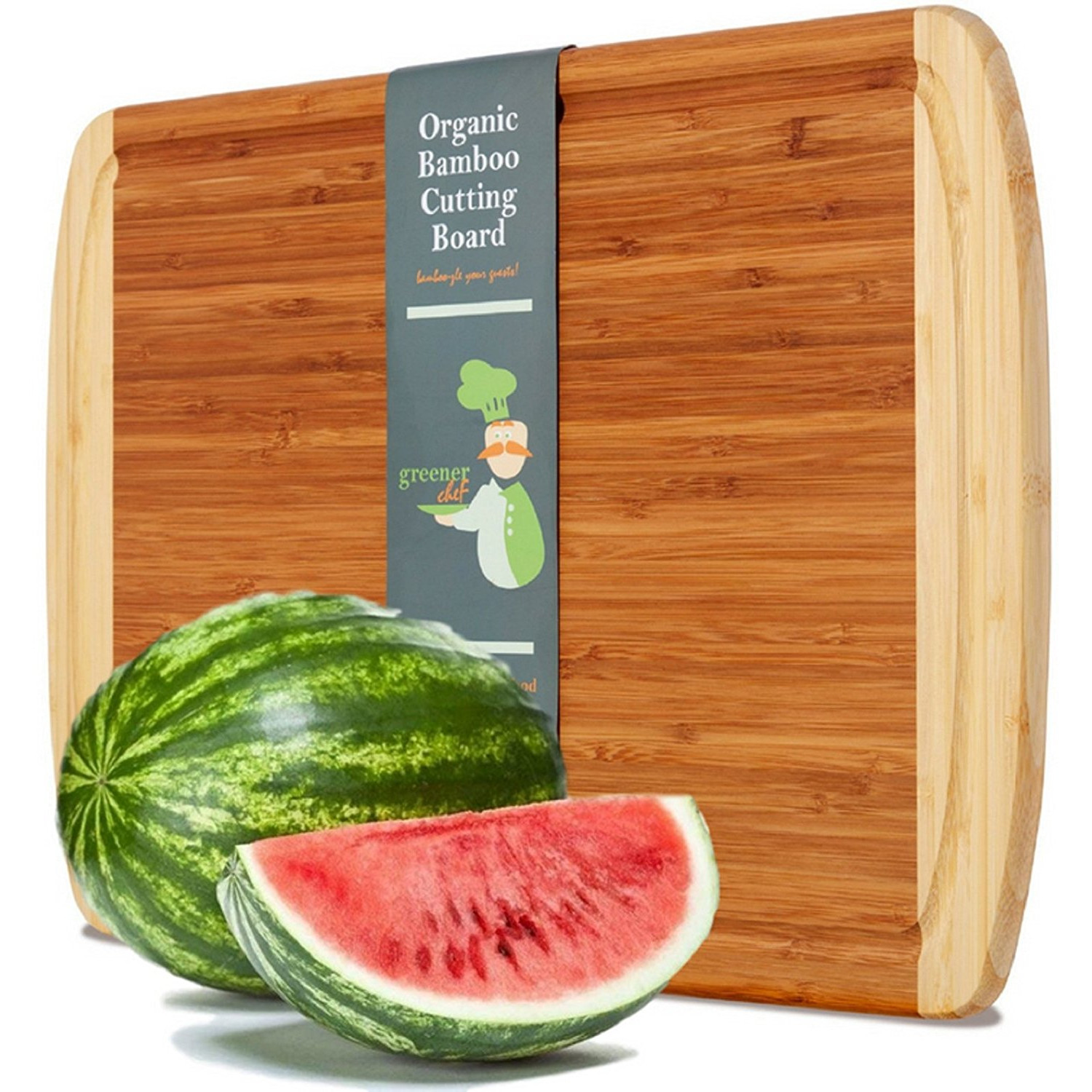 All-natural organic cutting board.
Large work area (18″ x 12.5″)
Save 10% when you buy two items.
Enter code GRCHEF10 at checkout!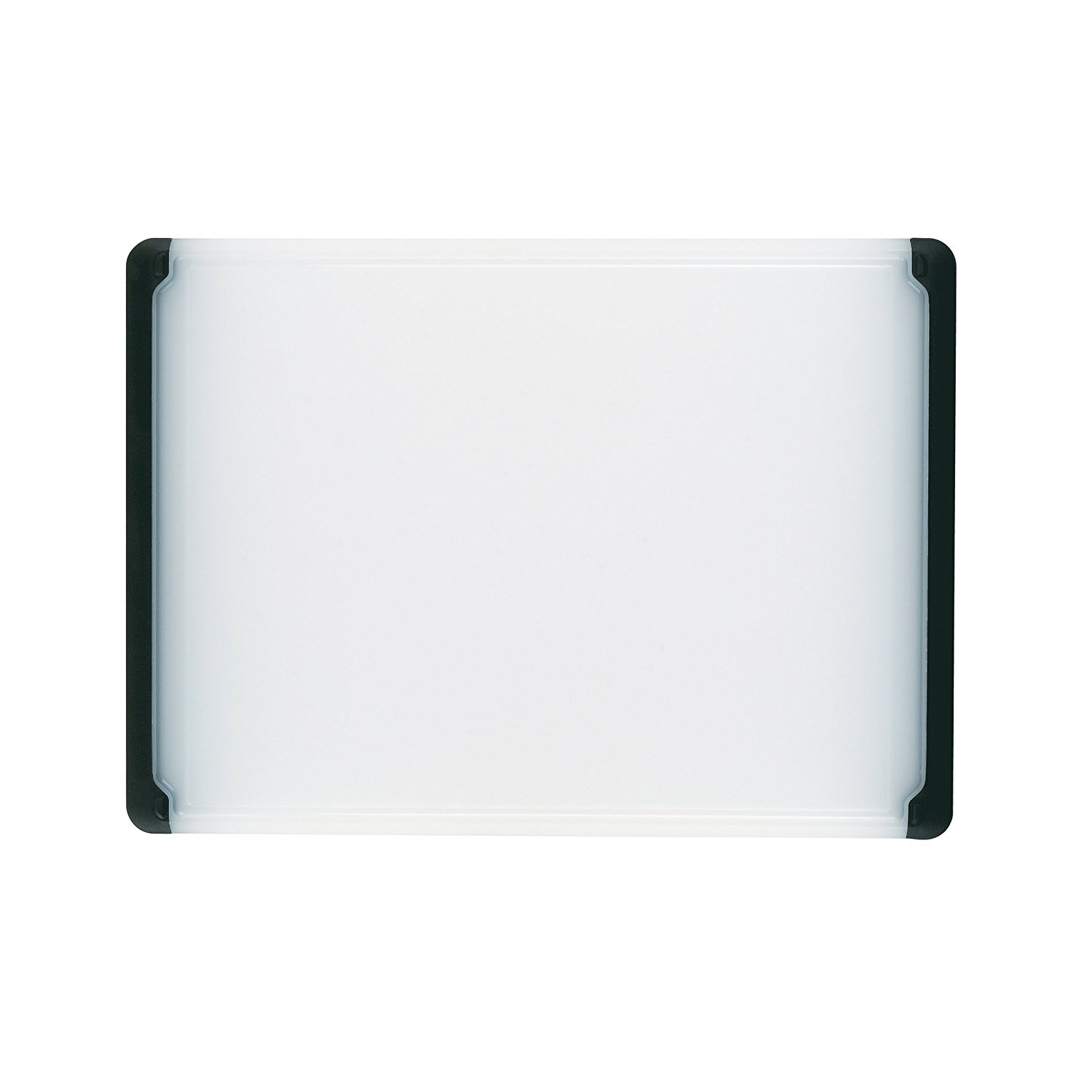 Non-slip edges
10.5″ x 14.5″
Double-sided design with juice groove
Dishwasher safe