Greener Chef Japanese Chef Knife Review
We are supported by readers who purchase the products we review. If you use one of our links to make a purchase, we earn a commission at no additional cost to you. See Disclosures.
I was excited to see that one of my favorite cutting board brands was releasing a new chef's knife. The quality and organic focus of this small business are not ones to overlook. With this being their first knife, I was eager to give the Greener Chef Japanese Chef's Knife a try. Does this 8″ Japanese chef's knife provide the quality of other chef knives? Continue reading below to find out! Short on time? No problem. Click here to jump on down to the review summary.
The Greener Chef Japanese Gyuto style chef knife was very impressive. The materials and construction are some of the best on the market. And the Greener Chef company truly cares about providing not just a high-quality knife, but also an outstanding customer experience.
Although the knife has an amazing look, its functionality was even more amazing. The blade remained sharp through a series of user testing. The hammered finished made fruits and vegetables release from the blade with no sticking.
Even though this knife is not one of the popular name branded knives, it is one you should highly consider adding to your kitchen.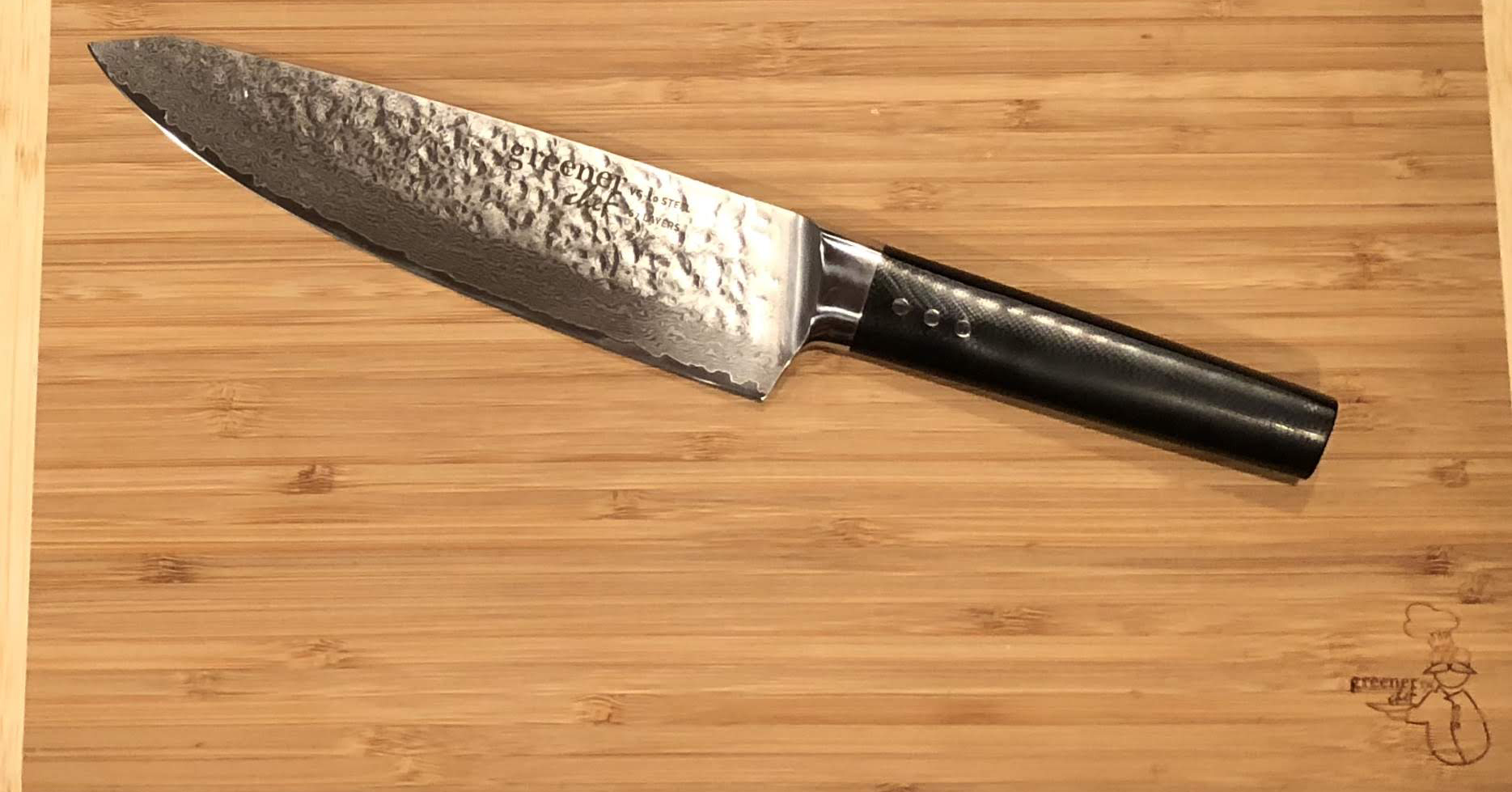 Materials & Contruction

97%

97%

Usability

98%

98%

Design

95%

95%

Design

96%

96%

Cleaning & Maintenance

96%

96%
8″ blade length gives more control over cutting
Hammered finish allows for food release.
Comes with a free cutting board
Handle material can be slippery
Bamboo sheath and locking pin are not the same quality of the knife
Materials and Construction
The Greener Chef Japanese Chef knife has a Damascus 67 layer design. The core is made with VG-10 steel with a Rockwell hardness of 60. This mean the blade will retain its sharpness longer, but will also require more time to sharpened when it becomes dull. The blade has a tsuchime finish (hammered finish) that allows the blade to cut through food with reduced friction and keep food from sticking. It also has corrosion resistanceIts edge is sharpened to a 12-15 degree angle on both sides. This Japanese knife has a G10 handle which is a military grade high-pressure fiberglass laminate. This ensures that the handle does not chip or crack with use. It is connected to the half tang blade with three rivets. The knife also comes with a bamboo sheath. The sheath is locked into place over the blade with a small bamboo pin. The pin seems like it will not stay in after multiple uses, but only time will tell.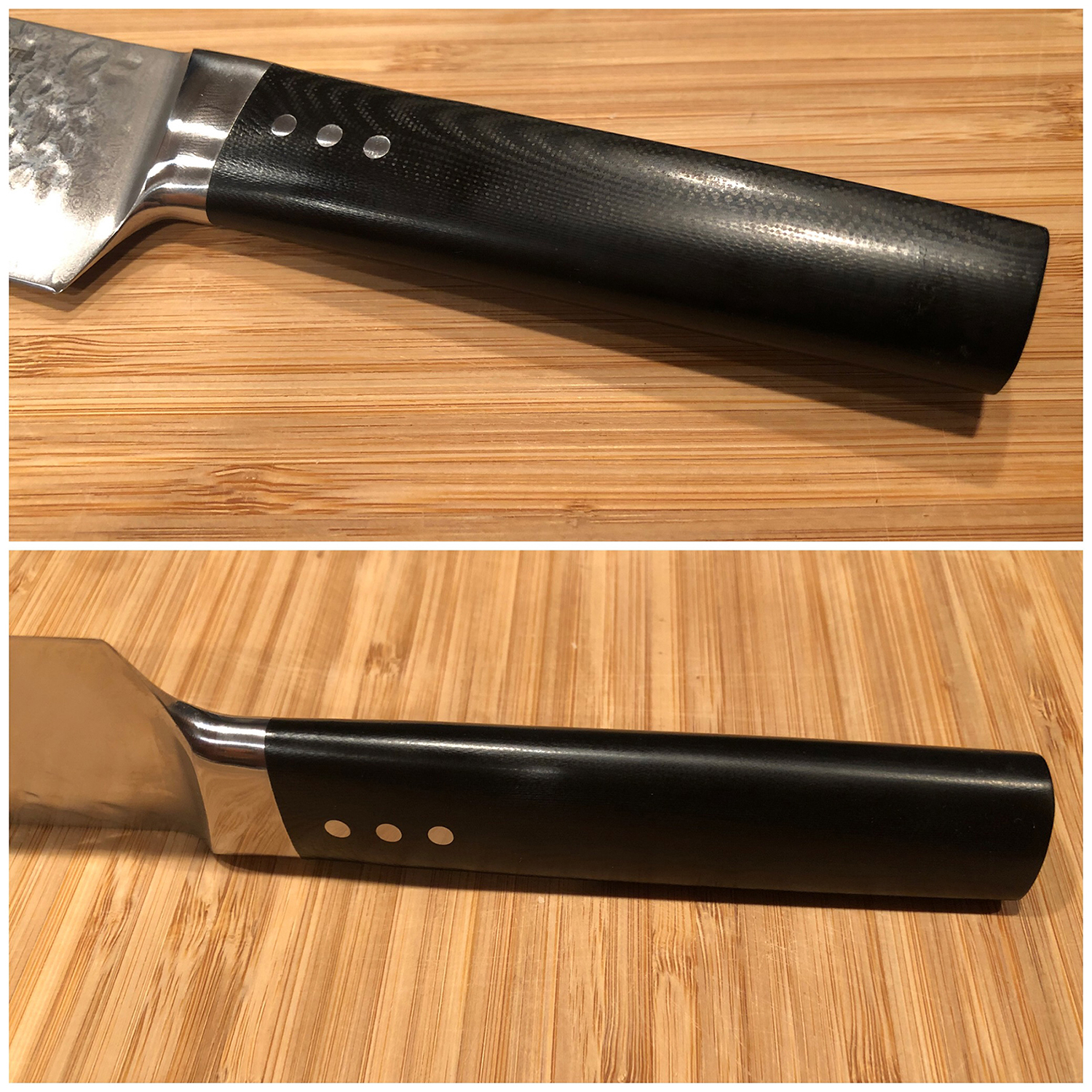 This knife has a compact design to match standard Japanese cook's knife. This style is also known as a Japanese Gyuto Chef Knife. The blade length is 8″ which allows for control when cutting. The overall weight of the knife comes in at 9 oz. You can feel the difference as compared to some of the other knives in my kitchen. I would consider the weight to add power to the knife's performance. Although this knife has a half tang and half bolster, it is perfectly balanced. I can place my finger right on the bolster edge, it remains balanced without tipping one way or the other.  The blade has a Damascus 67 layer design which give an elegant look. It also has a tsuchime finish to not only add a visual element, but it also provides a functional element with its ability to cut through food with minimal slicking. The edge is sharpened to a 12-15 degree angle. I am not sure why it has a range, but that information comes directly from Greener Chef. The ergonomic handle has a unique design with its teardrop shape. This allows for a firm grip using either a handle grip or a pinch grip. The G10 material of the handle is designed with a focus on durability. My only issue with the handle material is that is has a smooth finish which allows it to have some slippage when it is wet or coated with oil.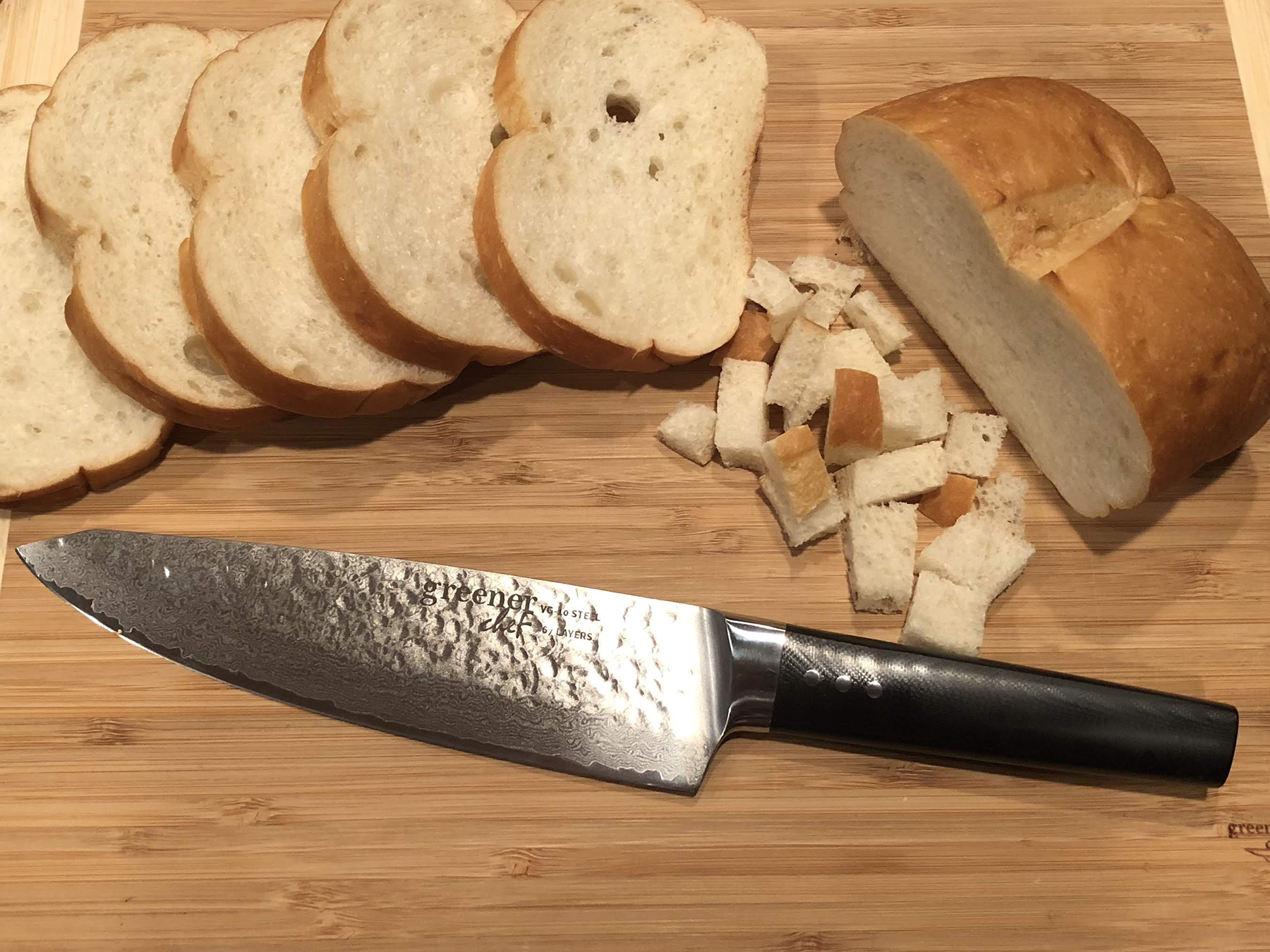 Length
Blade 8″ (advertised) 7 3/4″ (actual)
Full length: 12 7/8″ (actual)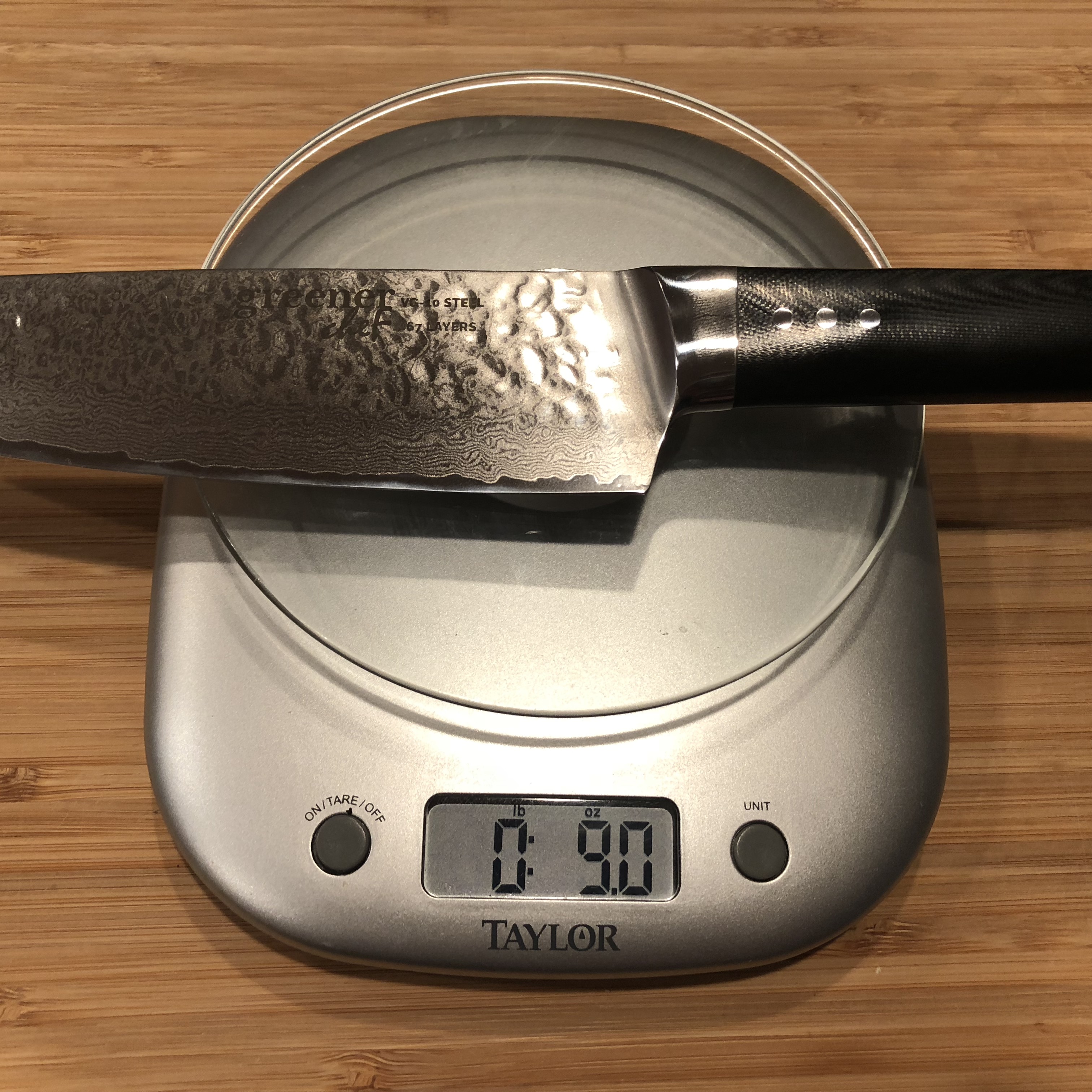 Blade
Forged VG-10 Japanese super steel core
Handle
G10 (high-pressure fiberglass laminate)
Made In YangJing, China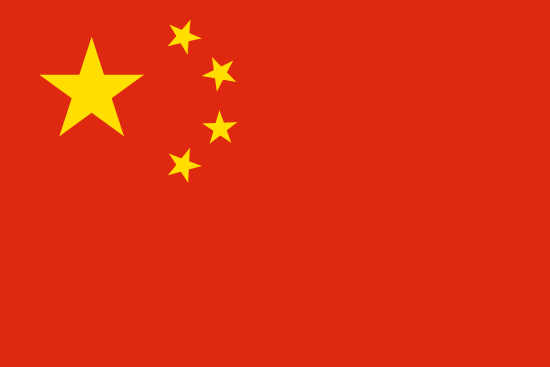 Each knife goes through a series of usage tests in my own kitchen over a period of several weeks. Trying a knife in an isolated test environment does not give an accurate representation of a true home kitchen environment. I have cut a variety of meats, vegetables, and fruits with this Greener Chef Japanese Chef Knife.
I have found this gyuto style knife to cut very well. The blade showed virtually no wear and maintained a sharp edge after many uses. I did notice the blade had a small chip near the tip. I am not sure what exactly caused the damage, but it was very minimal and can be sharpened to fit it.
Bread: This knife easily slides through french bread very easily. The blade did not get hung up on the bread like some blades. I was able to cube a slice with minimal tearing of the bread.
Carrots: The sharpness of the blade cut right into the carrots, and the wedge shap of the blade helped it to cut through.
Chicken: Removed fat from raw chicken without issues. It sliced the meat with minimal effort.
Onions: Cutting an onion with this knife was effortless. The edge gripped the slick skin making it easily to slice and dice. I was able to shave off thin strips of onion as well.
Potatoes: This is one of the best knives I have cut potatoes with. The blade sliced through the potatoes with ease, and there were virtually no sticking to the blade.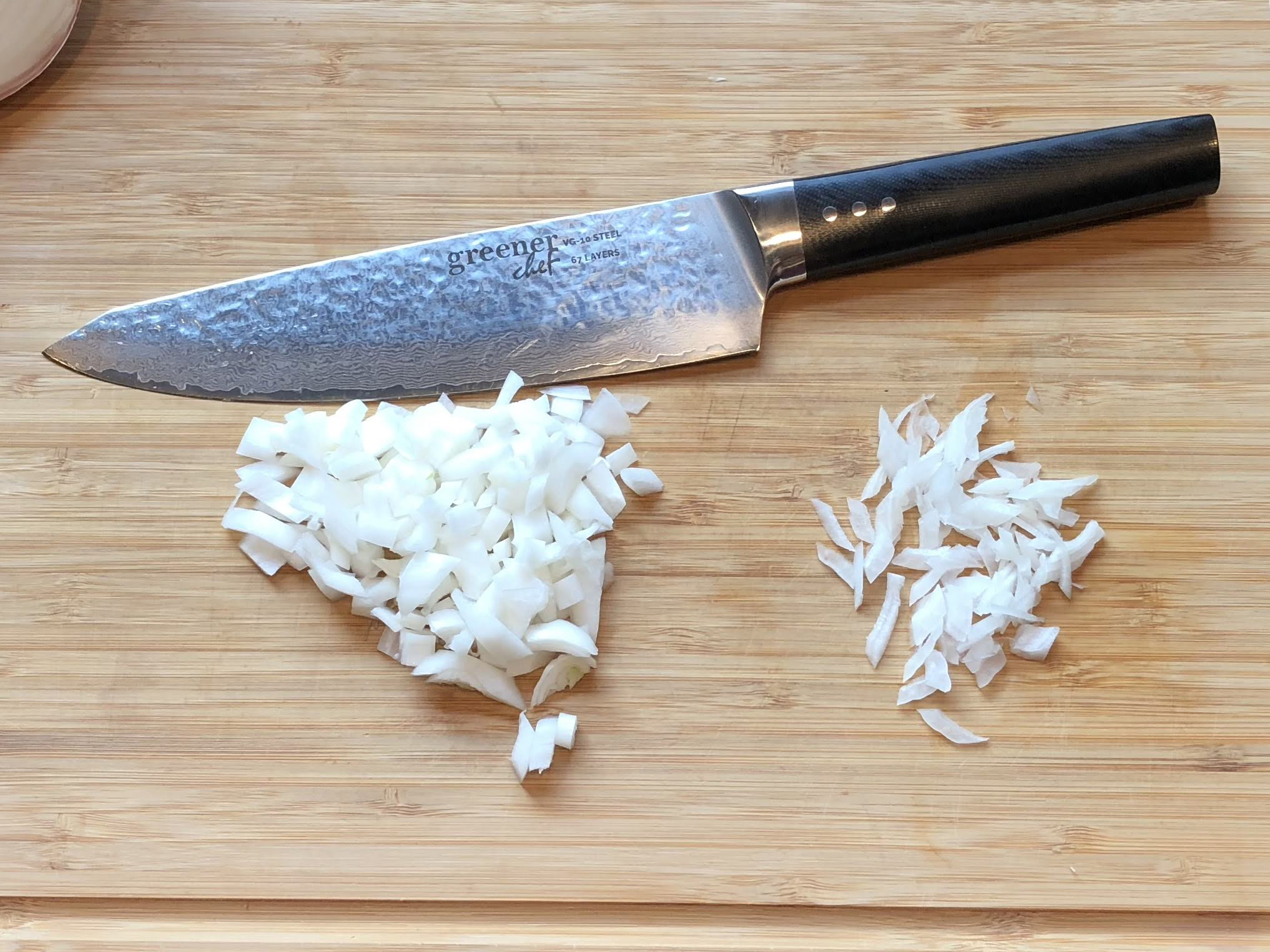 It is not recommended that you wash the Greener Chef Japanese Chef Knife in the dishwasher. I recommend that you hand wash this knife to ensure its sharpness and longevity (see: Kitchen Knife Care). Be sure to immediately rinse off after use and then using warm water and soap to fully clean it. Since the blade is made from high carbon steel, it can easily form rust spots. To prevents this discoloration, make sure that you clean and dry your knife after you use it to keep its amazing beauty. You will also want to coat the blade with vegetable oil to protect its finish. The bamboo sheath will also provide protection from damage. As this knife has a Rockwell hardness of 60, it holds its sharpness much longer than the average knife. I suggest honing this knife regularly to keep clean edges. If you find that the edge sharpness does not return after honing, you can use a whetstone to sharpen. Be careful of the tsuchime finish when you do sharpen it. Since this steel is a little harder, it will take a little longer to sharpen this knife using a whetstone. The handle is one piece with flush rivets. This design helps to prevent food liquids and particles from getting in any cracks. You will still need to wash it with soap and warm water. Remember that your knife purchase is an investment. Taking proper care of your knife will ensure that it will last for years to come.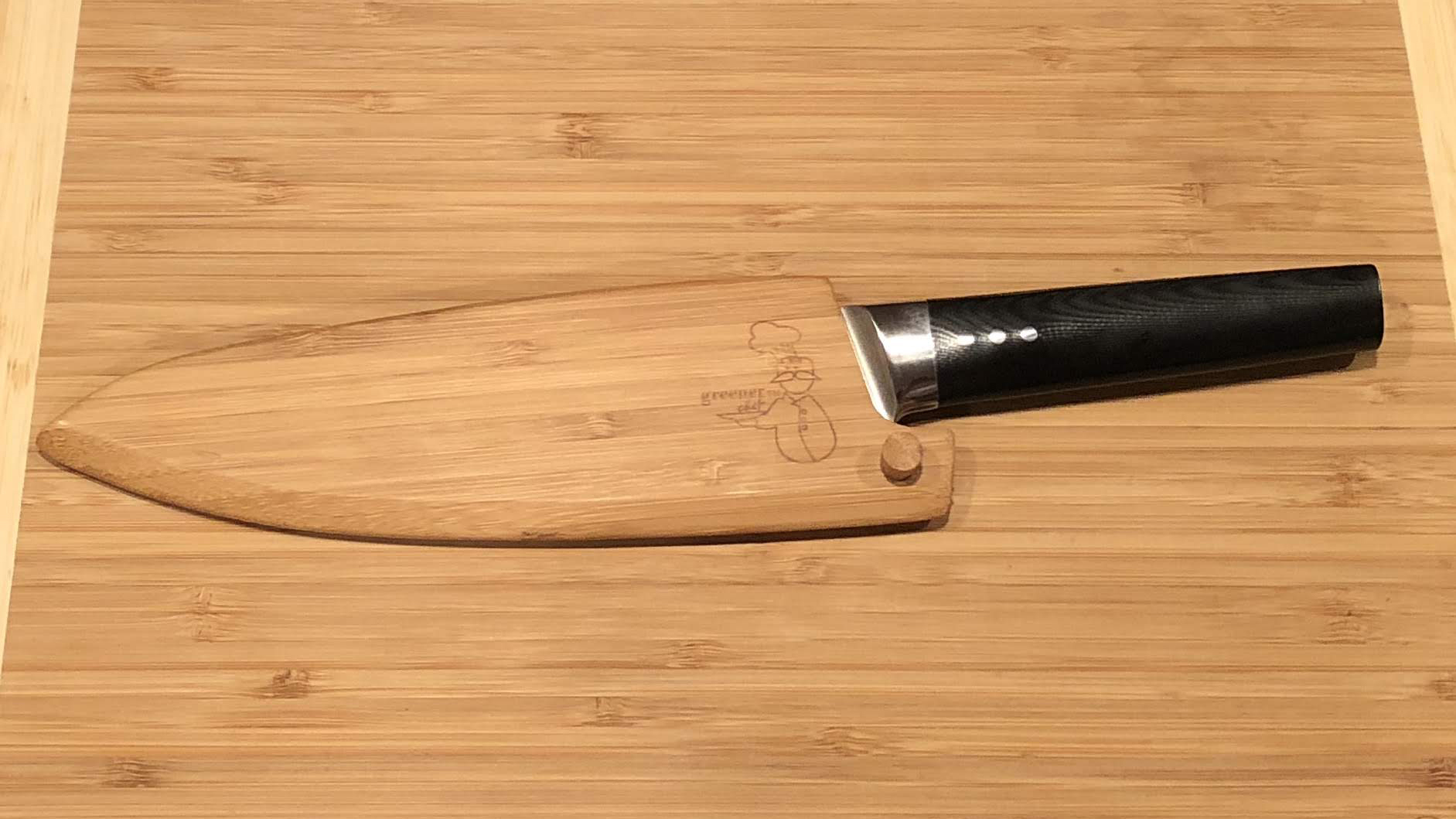 Company
Greener Chef is a small business run by husband and wife, Brent and Laura (and baby Max). They are passionate about living a healthy lifestyle and using healthier products that respect their bodies. In their quest to find these products, they decided to create their own products because they wanted it to be done right.
With Greener Chef being as small as it is (and new: est. 2015), I was unable to find any lawsuits class action claims, etc. against them. Reviews for the company's products on Amazon raised a few concerns.
There have been several reviews deleted, although this may be in part to reviews mentioning being incentivized for the review. Amazon currently prohibits those types of reviews. Also, there may be some false impressions when looking at the reviews. Greener Chef carries multiple versions of the cutting board under a single Amazon product page. You can buy the cutting board by itself, or a knife with a free bamboo cutting board. So the reviews do not apply directly to one product. I suggest reading through the reviews to make an adequate decision.
Return Policy
As an item that is exclusively sold on Amazon, you can use the Amazon return policy and return any item within 30 days. If you exceed this allotted time, then you will want to contact Greener Chef directly to work through your issue. They state on their listing that they will give you 30 days to return this knife for a full refund including shipping.
Warranty
The Greener Chef gives you 30 days to return this knife for a full refund including shipping. Based on several Amazon reviews, their customer service is outstanding and they will go above and beyond to make things right.
Greener Chef has outstanding customer service. They will go above and beyond to make things right.
Value
The price point for the Greener Chef Japanese Chef's Knife is right at $75. Depending what kind of knives you are used to buying, it may seem a little high. However, you should consider the Damascus layered design, the VG-10 steel, and the G10 handle material. Each of these is high quality and are worth every dollar spent. Also at the time of this review, when you purchase the knife through the Greener Chef Amazon product page, it comes with a free XL bamboo cutting board (reviewed here).
Support small business
Although you purchase this knife on Amazon, you are support a family. A bonus is their commitment to providing green products.
Hammered Finish
A significant difference between this knife and other knives is the hammered finish. This finish allow food to release more easily.
Ergonomic handle
The teardrop handle design allows it to fit in my hand without any discomort. It works well for both a handle grip on a pinch grip.
High quality steel blade
The VG-10 core and Damascus 67 layer construction creates a very high quality blade. Combining that with its functionality creates an extremely useful kitchen knife. 
Greener Chef Japanese Chef Knife
Materials / Construction -

97%

Kitchen Use -

98%

Sharpness -

100%

Grip -

95%

Weight / Balance -

96%

Cleaning and Maintenance -

96%

Value -

95%

Company -

95%

Returnability -

100%

Warranty -

100%
Summary
The Greener Chef Japanese Gyuto style chef knife has some of the best materials and construction on the market. This kitchen knife has an amazing look and even better functionality. You should not hesitate to purchase this knife based on its qualities. The Greener Chef brand's customer service is an added bonus to this product.