We are supported by readers who purchase the products we review. If you use one of our links to make a purchase, we earn a commission at no additional cost to you. See Disclosures.
Opelware Chefs Knife Review
We are supported by readers who purchase the products we review. If you use one of our links to make a purchase, we earn a commission at no additional cost to you. See Disclosures.
The Opelware Chefs Knife caught my attention with its extremely low price. Forged knives are known for better quality, but I was curious to see if this knife would produce a quality similar to more expensive knives.
The Opelware Chefs Knife is a stainless steel forged knife with a beautiful Pakka wood handle. It is handcrafted and designed to provide balance, performance, and reduce fatigue.
The Opelware Chef's Knife was promising at first until I did a side by side comparison with some of my higher quality knives. The Pakka wood handle adds a nice touch to the knife, but that's about the only positive thing I can say about the knife other than the $10 price. The blade material is one of the lower end stainless steel which causes the edge dull very quickly. Honing the edge did help a little, but I found myself doing it multiple times through a single meal prep. At the end of the day, I honestly cannot recommend this knife other than for the price.
Materials & Contruction

50%

Usability

60%

Design

75%

Cleaning & Maintenance

50%
At $10 you can not beat the price.
The Pakka wood handle is very durable for all types of use and conditions.
The blade is made from low quality 5Cr15MoV stainless steel.
The lower quality steel causes it to be extrememly difficult maintain an edge.
The company does not portray a professional appearance with its product descriptions and website.
Materials and Construction
The blade of the Opelware Chef Knife is made from a 5Cr15MoV stainless steel. The 5Cr15MoV is a Chinese stainless steel with a Rockwell hardness of 55-57. This steel is on the lower end and does not hold an edge all that well.
The handle is made from Pakkawood (Pakka wood). Pakkawood is an engineered wood/plastic composite material. It is waterproof and resistant to warping and splitting. Although it is engineered, it has a natural wood look and can be dyed to any color.
The knife does not have a full tang although the silver endcap gives that appearance. Further examination of the knife I noticed some imperfections in the steel. Small dings and scratches were apparent right out of the package.
This chef knife came very sharp out of the box. At first use I thought that I had good quality knife. As with all of the knives review, I put it through a series of sharpness tests:
Sharpness Test #1
(Manufacturer Sharpened)
20# Print Paper – Sliced through with no issues.
Thin SaleS Ad Paper – Sliced through with no issues.
Rolled Sale Ad Paper – Did not grip the slick edge to slice through.
Sharpness Test #2
(After Kitchen Use Test)
20# Print Paper – Sliced through with some minor drag.
Thin SaleS Ad Paper -Sliced through with a lot of tearing.
Rolled Sale Ad Paper – Did not grip the slick edge to slice through.
The Opelware Knife is fairly balanced with its weight of 8.4 ounces. I would not call it perfectly balanced as the blade tends to be slightly heavier than handle. I attribute this to the knife not having a full tang.
I have not been able to find the angle of the blade. I would guess it is somewhere between 15 – 20 degrees. The softer blade material requires it to be honed regularly.
The handle is the most beautiful part of the knife. Even though it uses Pakka wood, the look and feel is outstanding. The handle definitely sells the knife as having a higher quality than it actualy has.
Length
Blade
8″ (advertised)
???" (actual)
Full length: ???" (actual)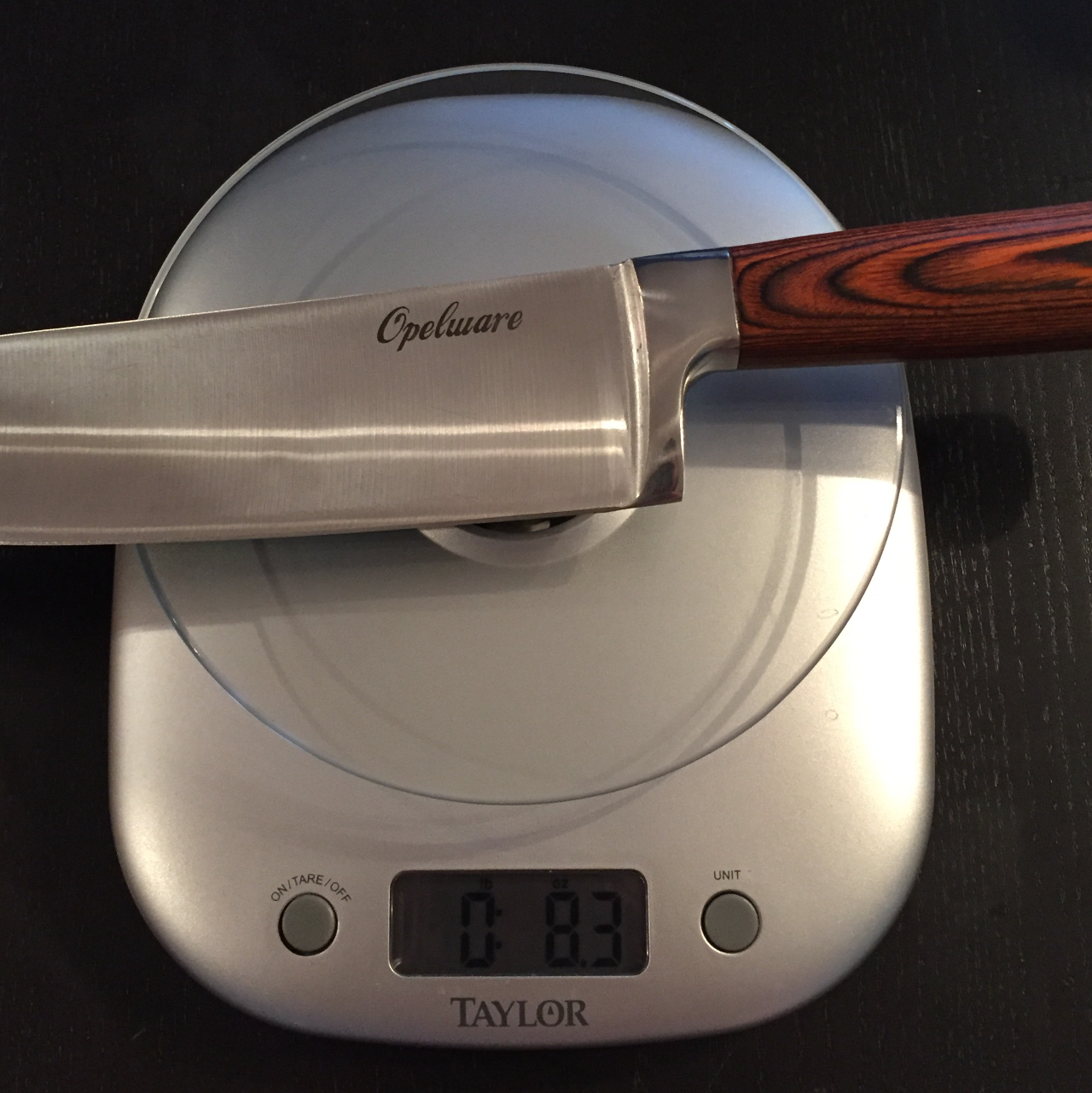 Handle
Pakkawood (Pakka wood)
Made In China
The Opelware Chef Knife seems to be a decent knife at first glance. Yes, it cuts through some foods with ease and has little more challenge with other foods. It actually does better than the average dull chef knife that people continue to use in their kitchen.
If you are using to that old dull knife, then you will find that this knife provides a lot of usability in the kitchen. It's not until you test it side by side a higher quality knife (like the J.A. Henckels Chef Knife) that you realize that it is lacking.
At first use this knife cut up the chicken without much effort; however, over time the blade became dull and require more effort to cut up the meat.
Cutting up onions showed that the blade was not holding up very well. It did not catch the slick skin of the onion. It slid down some of the thicker parts of the skin. It also required more force to actually cut up and dice it. 
This knife did pretty well with cutting up apples. It did have some trouble with cutting through some of the tougher apple peels.
Although this knife cut up herbs, it did more crushing than cutting.
Cutting up potatoes showed some resistance with the blade. Also found that the potatoes cubes stuck to the side of the blade.
The chef knife by Opelware is not dishwasher safe and requires that you wash it by hand. I recommend that you wash it with a mild detergent and warm water. The stainless steel material that it is made from does provide a resistance to stains, rust, wear and corrosion; however, you should not allow foods to stick on them for long amounts of time. Regularly rinse and wipe it off.  
The 5Cr15MoV stainless steel quality makes it extremely difficult to keep a sharp edge. I regularly honed the blade before each use, and still, the blade quickly became dull. Even sharpening it on a whetstone did not help this blade in the long run. The cheap materials of this forged knife do hold up to home kitchen use.
Company
Opelware is a small company with a few kitchenware products being sold on Amazon. Their website does not have a lot of information, and their contact phone number is based out if India.
A few red flags go up for me on this company. First, the Amazon description of this knife has several misspelled words. If they cannot put in the effort to have that correct, then it concerns me on how they have developed their product. The other concern I see is the reviews that their other products have gotten on Amazon. Based upon an analysis of those reviews, there have been a significant number of reviews deleted from the product pages. I am not sure the background behind those deletions, but that tells me there is something being covered up.
Return Policy
The Opelware Chef Knife is offered through Amazon.com, so it can be returned within 30 days of purchase. It does not qualify for free returns, and since the cost of this knife is so low, the return shipping will take a good bit of your refund.
The Opelware company on the other hands has a statement that you can try it risk-free, and if you are not satisfied for any reason they will give you a full refund.
Warranty
There isn't any mention of a warranty on the product page or the company site. The closest thing to a warranty is the company's money back guarantee.
Value
This knife is one that I go back and forth on with value. The quality is definitely lacking; however, at a cost of about $10 you get what you pay for. If you have some tasks that require that you be rough with you knife then this would be the perfect knife for the value.
Who Should Buy the Opelware Chef's Knife?
I would recommend the Opelware Chef's Knife to home chefs who want:
A Cheap Knife at a Cheap Price
It's hard to pass up a deal for a forged knife less than $10, but keep in mind that the quality matches the price.
Opelware Chef Knife
Materials / Construction -

50%

Kitchen Use -

60%

Sharpness -

50%

Grip -

75%

Weight / Balance -

75%

Cleaning and Maintenance -

50%

Value -

80%

Company -

75%

Returnable -

50%

Warranty -

80%
Summary
The Opelware Chef Knife has some benefits; however, the negatives outweigh the few that are present. The $10 price for a forged knife is very attractive, but the quality is definitely lacking. I honestly cannot recommend this knife for anything other than some harsh kitchen tasks that you do not want to mess up you good knives using.