We are supported by readers who purchase the products we review. If you use one of our links to make a purchase, we earn a commission at no additional cost to you. See Disclosures.
Who doesn't like winning free kitchen knives? I am giving away the Opinel le petit chef knife box set. This knife among some of my favorite chef knives, and especially for kids who are learning how to cook. I have rated it as the best kid's chef knife available. Want to know how to win this prize? Keep scrolling to find out how to enter!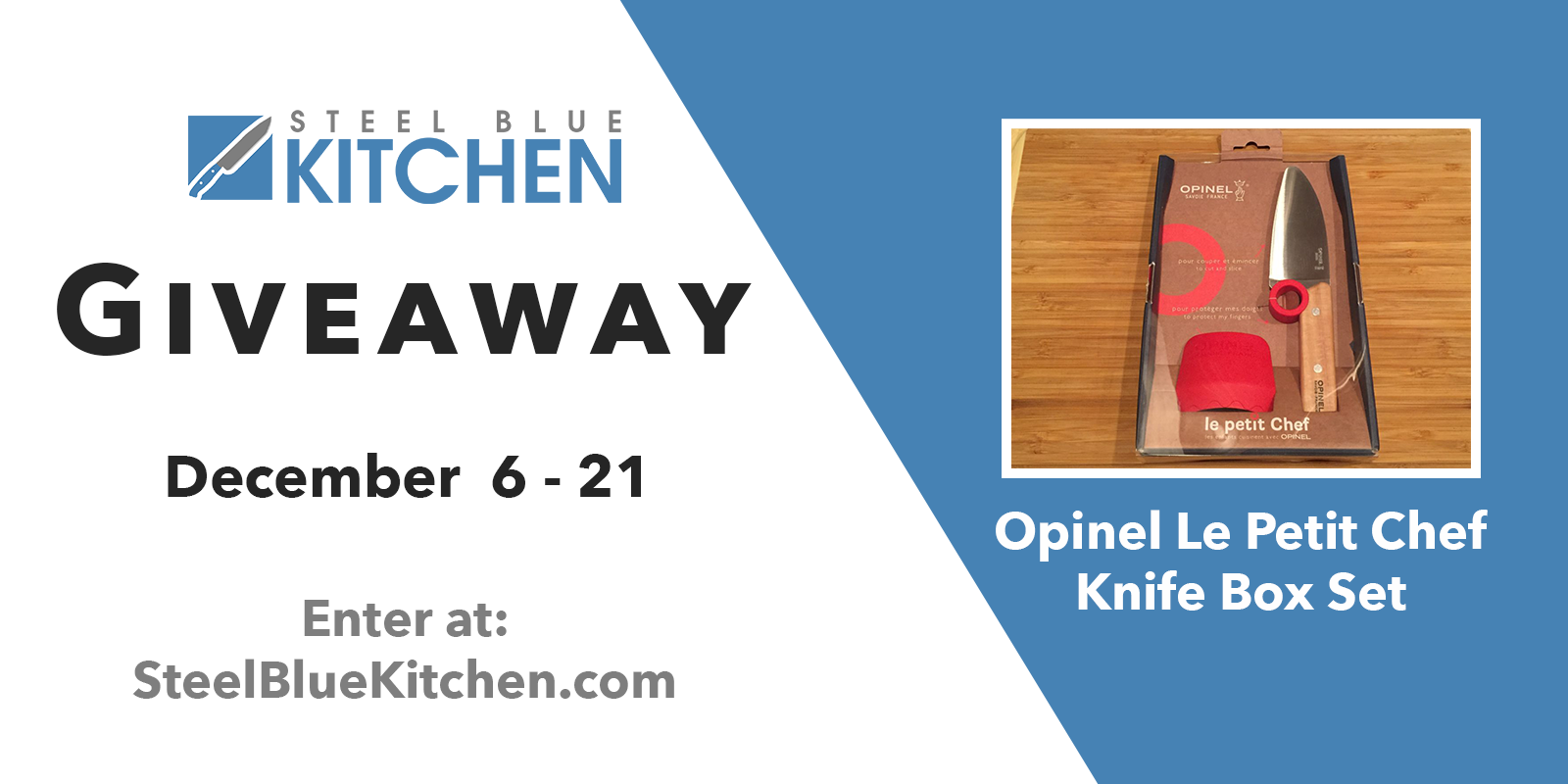 You can join in on this awesome giveaway by using the KingSumo application below. The App provides multiple ways to enter the contest. First, enter your email to unlock more entry opportunities. Then check your inbox and confirm your email to be eligible to win! The giveaway is open from December 6, 2018 – December 21, 2018. Best of luck!
About the Prize Package
The Opinel le petit chef knife is one of the best kid's steel knives on the market. The safety features include a rounded tip, grip ring, and finger guard. Its high quality and outstanding safety features make it one of a kind. This is an excellent choice to give a child who has an interest in learning how to cook with basic knife skills. Here's your chance to win!
Official Giveaway Rules
Duration
This giveaway is open for entry from December 6, 2018, and continues through December 21, 2018. 
Eligibility
No purchase is required to be entered into the contest. Making a purchase will not increase your odds of winning. Participants must be 18 years old or older. To receive the prize package, the winner must provide a US shipping address.
Prize Package
The contest will have one winner who will receive one (1) Opinel la petit Chef Knife box set. This prize package is valued at $49.00.
How to Enter
Entry into the contest is managed by the KingSumo app using specific action, such as:
Email sign up (required)

Like SteelBlue Kitchen Facebook page

Follow SteelBlue Kitchen on Twitter

Read Opinel Chef Knife Review

View Opinel Chef Knife on Amazon

Getting friends to join

Daily bonus by visiting the contest page
Winner Selection and Notification
The winner of this contest will be randomly drawn from the list of entries through the Gleam app. An email notification will be sent to the winner within 24 hours of the contest end. If the winner does not respond with twenty-four (24) hours of notice or declines the prize package, they will be disqualified and a new winner will be chosen. This will continue until a winner accepts the prize package within the allotted time.
Taxes
The winner will be responsible for all taxes that may be required by accepting the prize package. Please consult a tax advisor with any questions.
Personal Information (Privacy)
Any personal information (name, email, any other information provided) that is submitted during this contest will be used to contact the winner. We will not share any of your personal information to any 3rd party entity.
Email Subscription
By entering this contest, you agree to receive email updates about our reviews, giveaways, and other awesome stuff happening on the site. You may unsubscribe from the update email by clicking the unsubscribe link at the bottom of the email, or by using our contact form.
Disclaimer
This contest is in no way sponsored or endorsed by Amazon, Facebook, Instagram, Twitter, or Opinel. The prize package has been solely provided by SteelBlue Kitchen.